Sixteen-year-old Loa has experienced a year full of tragedy the likes of which most people will never know. She clings to her daily routine and her schoolwork, even as she suffers from Post-Traumatic Stress Disorder. Can you describe some of the research you did for this book?
First of all, in order to write a realistic novel, the story must be grounded in experience of the world. Every living moment is field research.

As far as secondary research ("looking things up") is concerned, when I was writing for Loa, I did the research she would have done for herself. I didn't want to lose her perspective. Knowledge or understanding beyond a character's experience can contaminate the point of view, I think. I defend the perimeter of my imaginary worlds--if something shows up, I must know its provenance.
Each section of the book opens with a fact or observation about physics, a class Loa loves. Are you fond of physics yourself?
Yes. Science is central to me, to how I live in the world.
Have you always been drawn to contemporary realism? Would you share some favorite titles with us?
I'm actually a very promiscuous reader--not genre bound at all. I like books that cause me to realign my thinking. If I start listing favorite titles, there will be no end to that. Chronologically, my fiction list begins with The Magic Boat (Wright) and ends with The Blue Fox (Sjon)--at the moment. As I said, I'm promiscuous and inclined to fall in love again soon.
Is this your first finished novel, or do you have abandoned manuscripts in a drawer somewhere? How long was your publishing journey, from starting the book to getting The Call?
I have an unpublished and probably unpublishable book. While writing it, I discovered how much writing was like reading. There are still some corners of that book I haven't quite read/written yet. I will never abandon it because I love it.

I started work on TFO on October 5, 2007. Between then and January 2009, I was working on it actively for about 4 months. I don't write every day--I only write if I'm interested in doing it. I queried a handful of agents--it wasn't working for them. I submitted it to Carolrhoda in April of 2009 and Andrew Karre said he liked it on August 23, 2009.
The Morris Award is for a "first time author writing for teens." Why do you write for teens?
Because I like them. In my experience, they are smart, funny, fierce people.
What's next in your writing life?
Carolrhoda Lab will publish my second book in early 2012. Other than that, I feel like I need to move forward very cautiously. I have experienced a joy of writing. I want to respect that and make it my priority.
Flash round:

Writing advice in five words or less.
Reveal a world to me.
Favorite fictional character.
Aslaug of Cristina Meldrum's Madapple

Vera Dietz of Please Ignore Vera Dietz by A. S. King

and Little My of the Moomin Tales by Tove Jansson

Those are three that matter deeply to me. Please tell the world if you can...

"You'll never have a face of your own until you've learned to fight."
--Little My, "The Invisible Child" by Tove Jansson.
Spaghetti or sushi?
Sushi--although this one worried me...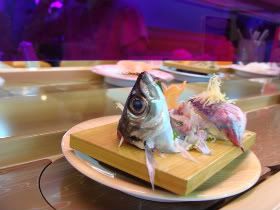 What are you reading right now?
These are the things currently in progress: a couple of non-fiction things for indexing; a couple of things written by friends; and two of the other Morris Award shortlist books.
Three favorite movies.
Tomorrow I might list different ones, but these are wonders that shouldn't be missed, that's for sure: Walkabout (Australia, 1971), Smoke Signals (First Nations, 1998), The Cuckoo (Russia, 2002).
Who do you wish you could meet, living or dead?
Ursula K. Le Guin. I'd like to tell her thank you.
In writing, are you a plunger or a plotter?
A plunger. (Although that word evokes certain kinds of plumbing problems. Maybe we could call it being a puzzler? I collect pieces of the story and then assemble them. Please, let's do. "I am a puzzler, not a plotter.")
Thanks for stopping by, Blythe!
Today I'm pleased to share this interview with Blythe Woolston, author of THE FREAK OBSERVER, another finalist for the Morris Award:
Hush
, by Eishes Chayil
Guardian of the Dead
, by Karen Healey
Hold Me Closer, Necromancer
, by Lish McBride
Crossing the Tracks
, by Barbara Stuber
The Freak Observer
, by Blythe Woolston
But life had other plans for me, and I have only managed to read two of the books … but I have also managed to interview their authors. So … yay! A Morris Award Finalist Authorial Intrusion.
I encourage you to go
here
to learn more about all five worthy books. The winner will be announced a week from today, Monday, January 10, at the Youth Media Awards Press Conference.
In the meantime, today I have an interview with Lish McBride, author of HOLD ME CLOSER, NECROMANCER:
HMCN is a hilariously twisted novel (Chapter Four managed to both shock me and make me laugh) about necromancers (people who can raise the dead), witches, werewolves, and various other supernatural creatures. What were the best and worst parts of writing this book?
Hm, well, when I wrote it, I didn't really think anyone was going to read it—the book was my thesis to graduate from my MFA program. The nice thing about this was there wasn't that much pressure so I got to be silly with it and just really throw myself into the process. My main goal has always been (and I hope will continue to be) to write something fun that makes my friends laugh. I'm just lucky that other people have been enjoying it, too. So I really loved that part of the process and the creation of it all.

Then revisions happened. Read. Edit. Read. Edit. Again and again and again until I lose all perspective on a book. I believe that editing is extremely necessary (ahem…especially for me) and that revising is integral to the process…but that doesn't mean I have to like it. I work on it and the whole time I'm anxious to start something new. And I always worry that I'm not going to get it right—that my editor will take one look at my revisions and lose all hope.

That being said, my editor, Reka, was extremely patient and kind throughout the whole thing. My agent is also hand's on and between the two of them I had a lot of support and a lot of help. It's a good thing, too. I was having a hard time with the middle. Middles and I just don't get along.
Have you always been drawn to the paranormal genre? Would you share some favorite paranormal titles with us?
Yup, as far back as I can remember. My mom read the Narnia books to me over and over when I was a kid and my stepmom read the Bunnicula books. Both of them were readers, both have a healthy love for fantasy and it passed on to me. I don't remember when I lost my first tooth or learned to ride a bike, but I can tell you what bookstore I was in when I picked up my first David Eddings book (Walden), who first told me to read the Earthsea books (my oldest brother, Darin), who gave me my first Laurell K. Hamilton book (my grandmother handed it to me in a grocery store in Florida saying, "This looks like something you'd like—weird.") and how old I was the first time I read Stephen King (seven). I can't really read King anymore because his stuff messes with my head too much, but the rest still line my shelves. I remember my brother, Jeremy, taking me into a bookstore one year for Christmas and asking me what book I wanted. I picked out the Thief of Always by Clive Barker. I was so excited to read it…and the jerk wrapped it up and put it under the tree. I knew it was there and I couldn't touch it. I'm not sure Jeremy understood how torturous this was—he's never been a reader.

So yeah, I've always been drawn. I still read it. It's easier for me to pick authors than books because, well, I read a lot. Kelly Armstrong, Jim Butcher, Kim Harrison, and Christopher Moore—they're all on my list. I love Jasper Fforde and recommend him all the time even though I have a sneaking suspicion that he's much smarter then me. Same for Robert Rankin (Hollow Chocolate Bunnies of the Apocalypse is still one of the best titles in the world). I just finished the Tiffany Aching books by Terry Prachett. If I ever get to the point where I'm half as witty as him and I'll be happy. I loved the Graveyard Book. I also just started reading Libba Bray. Amazing. I…I should stop now. No one should ever ask me this question. Same goes for movies. Floodgates unleashed…
Each of your chapter titles in HMCN is a snippet of lyric or a song title, for example, "Dead Man's Party," "These Are a Few of My Favorite Things," and "Papa Was a Rolling Stone." They serve as funny portents of the action in each chapter. I'm curious – is there actually a song with the phrase "Hold Me Closer, Necromancer," or is it just a play on "Hold Me Closer, Tiny Dancer?" (Which, by the way, thanks for that earworm.)
It's a play on "Tiny Dancer" and I've had a lot of people tell me that I've gotten the song stuck in their head. I'm still not sure if I should apologize or not.
Is this your first finished novel, or do you have abandoned manuscripts in a drawer somewhere? How long was your publishing journey, from starting the book to getting The Call?
Oh man, I wish I had abandoned manuscripts. Wouldn't that be nice…no, this was my first shot at the whole novel thing. So as awesome as everything has been, to be honest I'm still getting over the excitement of just finishing a novel in the first place.

Like I said, this was my thesis to graduate. (Ha ha—I got a DIPLOMA for this.) So, I wrote it over about a six-month period and turned it in, then before I even graduated, my agent picked me up. I edited it while packing up and moving cross-country, then we sold it in October. So, from genesis to sale, less then a year. But then we edited it forever. When Holt bought the book, they had other books lined up to go, so mine wasn't going to be published for two years. I'm not super patient, but it was nice to have the time to edit and fix the bugs.
I know many talented authors that take years to even land an agent, so my luck kind of makes me feel like I cheated somehow. I wrote a book and someone bought it. It's kind of insane.
The Morris Award is for a "first time author writing for teens." Why do you write for teens?
I always planned (or hoped, at least) that I would start out writing fantasy books and then wander my way into teen after I'd been established. Everyone else seemed to do it that way, so I thought that was the way it had to be done. So I planned even though I'm not good at following plans…and I did it all backwards. This shouldn't be surprising. I do everything backwards. I didn't aim the book for teens. I wrote the book I wanted to write.

Then my agent, Jason, and I had this conversation:

Jason: This is YA. I want to aim it at those editors.

Me: Really? But what about all the curse words? Will I have to cut any of the violence or the sexy bits?

Jason: Have you read YA lately?

Me: Not the right ones, apparently.

Jason: Do you not want to be YA? Are you worried some stigma might be involved in being a YA author?

Me: No, no, no—I love kids and teen books. Seriously. As for stigma, I write about werewolves and zombies, and I've been writing about them even while in a MFA program. Well used to stigma and I could care less about that.
Jason was right—it was YA. I didn't have to cut any of the stuff I was worried about and I've since learned that I'm kind of tame. I will say that one of the editors (I can't remember who) that I talked to said that the [Editorial decision: Cut for spoiler!] was a clear marker that it was YA—that the humor and everything was definitely juvenile. I asked the editor if they were calling me immature because this was the kind of stuff I found funny. I never really got a straight answer. To be honest, I'm not 100% sure what makes some books YA and some not, but I'm truly glad that I ended up where I did. I wasn't expecting how much I'd love talking to teens about the book. When they get passionate about something, the responses are so honest and there isn't the same level of posturing you get with adults sometimes. If a kid or a teen tells me they love it, I know they really, truly enjoyed the book. And if they said they hated it, then I know that's exactly how they feel. It's kind of cool.
I know you have a sequel to HMCN scheduled. What's up next?
What's up next with the sequel? Or after that? For the sequel, you're going to see Sam and the gang struggling with the fall out from HMCN. You'll meet some new folk and get to know some other characters a little better. I'm being incredibly vague. I'm not good with talking about things when I'm still working on them and I'm still editing book two. I'm also working on a New Thing. I don't want to say much about it except that Sam isn't in it and it's going to have more explosions and as well all know more explosions equals better book, right?
Flash round:

Writing advice in five words or less.
Read. Write. Revise. Fail. Repeat.
What are you reading right now?
I just finished the last Tiffany Aching book as well as Reaper Man and then I watched the Hogfather, thus making it a very Terry Prachett Holiday. Right now I'm reading The Name of the Wind by Rothfuss. I'm also reading My Family and Other Animals, which is hilarious. To my kiddo, I'm reading Odd and the Frost Giants and I'm introducing him to the Percy and the Olympians books (we're on book three). I'm excited to start reading the Artemis Fowl books to him. I also like to listen to audio books while I do boring things like dishes. I just finished Gaudy Night by Sayers and I'm cycling back through some Agatha Christie. I'm also reading the Scott Pilgrim series and I'm starting the Amulet graphic novels. I was going to start reading the new Holly Black book and start Zombies vs. Unicorns, but I just got my edits back, so I'm going to have to wait I guess.
Three favorite movies.
Remember when I said you should never ask me about movies? I can never pick just one—I love too many for different reasons. So I'll give you three but I need to preface that these aren't necessarily my top three, but just a few of my tops. (I take this stuff seriously, friend.)
Better Off Dead
Hot Fuzz
Princess Bride
Please know that it was almost painful for me to only pick three. I kept wanting to add.
M&Ms or Skittles?
Depends on my mood. Both are good, but I'm more likely to pick Reeses Pieces.
Skiing or snorkeling?
Skiing. I used to ski when I was a kid. I forget about the snorkel when I snorkel and I choke on a lot of salt water that way.
In writing, are you a plunger or a plotter?
Plunger. I tried to plot once and mapped out a few chapters. Then I completely ignored my outline. I've learned to just write and then go back and fix things later.
Any phobias?
Not in the extreme sense of the word, but I'm afraid of clowns. I'll cross the street to avoid them. And mustaches. They're okay if they're attached to a beard or not close to me, but if I'm dating someone, they have to shave or I won't go near them, which I guess is more of an aversion than a phobia.
I guess a clown with a mustache would be like my kryptonite.
Favorite fictional character.
This…this is a terrible question. Not terrible to ask, but man, to answer? I've seriously been sitting on this question for days. That's like asking to pick a favorite amongst children. Sure, you prefer some to others, but you keep it to yourself, or the others get hurt…and I'm right by all my books and I'm worried that some of them might be looking over my shoulder…eavesdropping…
Thanks for stopping by, Lish!
I had great plans to read all five finalists for the Morris Award this year:
Happy Book Birthday, Kate!
Kate Messner is one of the hardest working authors I know. Not only does she teach middle school (which means homework!) (and a PATIENT PERSONALITY), she has a husband and two kids, she writes fascinating blog posts about reading, writing, travel and all kinds of things (with lots of great photos), she manages to attend national conferences like ALA (where I finally got to meet her!) and NCTE/ALAN …
and
she's written everything from picture books to YA novels. I first
interviewed her
almost three years ago, when her historical novel, SPITFIRE, was released. One of my questions in that interview was, "Early bird or night owl?" Her response explains her stunning productivity:
"Both - I don't require a lot of sleep, so I write from 9-midnight after my kids are in bed and get up at 6 so I can run before school."
Kate's debut middle grade novel, THE BRILLIANT FALL OF GIANNA Z., won the 2010 E.B. White Read-Aloud Award. The awards committee said: "Tender, honest. Adults & kids will both recognize themselves in the story. We loved the inter-generational elements, and the fresh, compelling voice."
Today is the release date for SUGAR AND ICE, Kate's newest middle grade novel.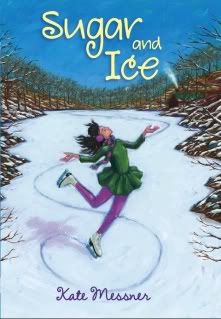 Description:
For Claire Boucher, life is all about skating on the frozen cow pond and in the annual Maple Show right before the big pancake breakfast on her family's farm. But all that changes when Russian skating coach Andrei Grosheva offers Claire a scholarship to train with the elite in Lake Placid. Tossed into a world of mean girls on ice, where competition is everything, Claire realizes that her sweet dream come true has sharper edges than she could have imagined. Can she find the strength to stand up to the people who want to see her fail and the courage to decide which dream she wants to follow?
The book has already made the Junior Library Guild Selection AND Winter 2010-2011 Kids IndieNext List!
When you read a Kate Messner book, you know you're going to get characters so real you would recognize them on the street if you saw them … a plot with gently escalating tension … plenty of humor and heart … AND (she's very clever about this) you will actually
learn something
, but it won't be dumped on your head, it will be stealthily woven into the story. I've enjoyed learning about leaf identification, beekeeping, maple syrup production, and Fibonacci numbers from Kate. She even has discussion guides at the end of each book.
Now that winter is here, SUGAR AND ICE is the
perfect
read.
2) The finalists for the 2011 William C. Morris Award were announced today!
http://www.ala.org/ala/mgrps/divs/yalsa/booklistsawards/morris/morrisaward.cfm
I'm very, very excited for the authors! I haven't read any of these debut novels yet, so I'm eager to get my hands on them.
3) The Bridget Kicks Cancer auction was a great success! It raised over $8,700. I'm shocked and grateful that someone bid
$320
for a manuscript critique by me. Thank you, winning bidder! I look forward to reading your work … and you'd better believe I'm going to give it the most intensive critique ever!
Not everyone can afford to donate large sums like that – I know I can't. Luckily, you can make donations of any amount directly to Paypal, if you like. Details on Bridget's blog (on the right side of the page):
http://www.bridgetzinn.com/blog/
Any amount is gratefully accepted. You can also opt to just mail a check - leave a comment here if you want to do that, and I'll give you the address in a separate email.
1)
Current Mood:

cheerful
Each December a group of bloggers and librarians puts together an amazing blog tour of author interviews - I'm so excited to report that
I first heard of Steph from local author Laini Taylor, who had been friends with her online for a couple of years. I started reading Steph's highly entertaining
blog
, and we struck up an occasional email correspondence. It was a thrill to watch her publishing journey … first as she landed her agent, then sold her novel in a two-book deal to dream editor Julie Strauss-Gabel. I've loved every book Julie has ever edited, so I knew I would love Steph's. When I met Julie at ALA in June, almost the first words out of my mouth were, "Please please please send me an ARC of
ANNA AND THE FRENCH KISS
!" She assured me I was on the mailing list.
When the book arrived, I dropped everything to read it, and …
swoon.
I love this book so much I'm mostly incoherent about it. I keep wanting to compare it to a French pastry, but that wouldn't do it justice. It's more like a five-course meal with the most satisfying dessert in the world. READ IT. You can thank me later.
Rather than continue to babble incoherently, I'm going to post quotes from others about this gorgeous book:
"Perkins's debut surpasses the usual chick-lit fare with smart dialogue, fresh characters and plenty of tingly interactions, all set amid pastries, parks and walks along the Seine in arguably the most romantic city in the world." (Starred review from Kirkus.)
"Featuring vivid descriptions of Parisian culture and places, and a cast of diverse, multifaceted characters, including adults, this lively title incorporates plenty of issues that will resonate with teens, from mean girls to the quest for confidence and the complexities of relationships in all their forms." (Booklist)
"Anna and the French Kiss has a romance that will leave knots in your stomach and have you hugging the book when you finish. The romantic tension is incredibly swoon worthy and the reader will relate to Anna's dilemma of "does he like me-are we more than friends" debate." (Five-star review by Sarah Bean Thompson, teen librarian.)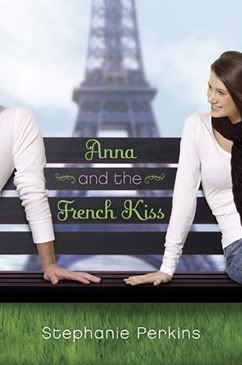 ANNA AND THE FRENCH KISS comes out in three days! I've purposely waited to post this gushing review because it drives me crazy to read about great books I can't have because they're not out for months. But ANNA?
Elle est ici.
If you want to bid on an autographed copy - and do a good deed - you can go
here
and support the
Bridget Kicks Cancer Auction.
Mini-bio
Stephanie Perkins has always worked with books—first as a bookseller, then as a librarian, and now as a novelist. She loves swashbuckling adventures, mocha lattes, fairy tales, loud music, neighborhood walks, jasmine tea, and afternoon naps. And kissing. Stephanie and her husband live in the mountains of North Carolina.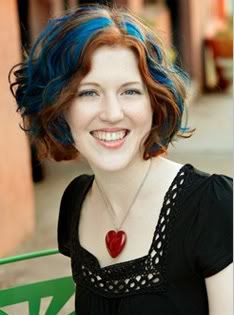 Thai food or Chinese?
If I'm eating locally, Thai. The Chinese restaurants in my hometown are TERRRRIBLE. But if I'm traveling, Chinese all the way!
Advice for writers in 5 words or less.
Write, Revise, Revise, Revise, Revise.
What are you reading right now?
CRACKPOT, by cult filmmaker John Waters.
What's the last song you listened to?
"I Hate Everyone" by Get Set Go (I don't. But some days, I do).
If you couldn't write in your current genre, what would you write?
Choose-Your-Own-Adventure Inspirational Vampire Westerns.
Favorite movie snack?
I'm a classic kinda girl. Popcorn, extra salt! But if I'm watching movies at home, I use hot sauce instead of butter.
What's your cure for the blues?
There's a cure??
Camping or four-star hotel?
Well, it doesn't HAVE to be four-star . . .
Favorite Harry Potter character?
Remus Lupin. He's so kind. He was the first person who treated Neville with respect (rather than pity), and that won my heart.
Snorkeling or skiing?
Oh, man. I'm terrified of the ocean AND hurtling down mountains. I seriously hope I never have to make this decision. How about *you* go in the water/down the slope, and *I* wait for you (with a book) on the sand/inside the lodge?
Spring or fall?
Fall, for the food. Pumpkin bread! Pumpkin lattes! Pumpkin chocolate chip muffins!
Early bird or night owl?
Morning is THE WORST. Why does it exist? Why, why, why?
Thanks for indulging our curiosity, Steph!
It's been a long time since I've posted an Authorial Intrusion interview, and I'm very excited to host Stephanie Perkins today!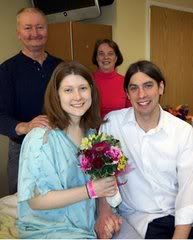 As a cancer survivor, I am ALWAYS thankful for good health. Having just gone through surgery two weeks ago, I'm even more aware of it than usual. The human body is such a puzzling bundle of parts … it's an eternal mystery why young, healthy people end up with terrible diseases, while alcoholic smokers like my grandmother (rest in peace, dear Onna) live to be 80.
Bridget Zinn
married her sweetheart Barrett Dowell almost two years ago in a hospital room. It was just prior to her undergoing surgery for Stage 4 colon cancer.
In addition to being generally horrible and unfair, cancer is expensive to treat. Lots of people have worked tirelessly to raise funds for Bridget over the past eighteen months. She's finished with treatment in Portland now, and has been traveling to Phoenix once a month for an intensive new treatment at the Cancer Treatment Centers of America.
Not all of the costs for this treatment are covered by insurance. That's where the
Bridget Kicks Cancer: Season of Love and Hope Auction
comes into play. Please check it out and bid on something for yourself or a loved one.
There are so many terrific items!
- Jewelry
- Portrait photography
- Tutoring
- Personalized animation
- A beach house rental
- Original artwork
- Professional manuscript critiques
- and of course books, books, and more books, most signed by the authors!
I have donated a manuscript critique. You can find the link here:
http://www.32auctions.com/organizations/163/auctions/963/auction_items/16016
I will read a partial or complete manuscript (up to 85,000 words) and offer a detailed, line-by-line critique.
New York Times bestselling author and friend April Henry has offered a critique, as well:
http://www.32auctions.com/organizations/163/auctions/963/auction_items/16015
Sarah Prineas, author of THE MAGIC THIEF series, has offered up a critique AND a referral to her agent:
http://32auctions.com/organizations/163/auctions/963/auction_items/16143
Lindsey Leavitt has offered up a book pack, including the chance to name a princess in her upcoming third PRINCESS FOR HIRE book! (I bid on this, and have been outbid already. Yay, bidders!)
http://32auctions.com/organizations/163/auctions/963/auction_items/17368
Please visit the auction site and browse around to see what catches your fancy. You can find it here:
http://bit.ly/bridgetauction
.
The auction ID is: bridgetkicks and the password is: cancer. The auction lasts until December 4.
Happy Thanksgiving, everyone!
September
"Good morning, Lisa. How are you?" Tim Gunn steps into the workroom.
"Fine, Tim, how are you?"
"I'm excellent, thank you." He moves toward the work-in-progress. "I'm eager to see what changes you've made in this novel since we
last spoke."
He peers at the illustration of the human digestive system Lisa is studying. "What …?"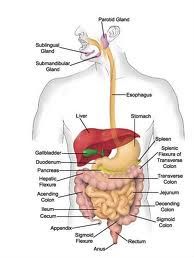 "I'm sorry to say I haven't made any changes," admits Lisa. "I've been having stomach pains for a couple of months, and when I get home from work at the end of the day, I don't feel like writing."
"Oh, dear. I'm so sorry to hear that. Have you seen a doctor?"
"Yes. I've had blood tests, and an ultrasound, and a CT scan. I'm scheduled for an endoscopy next Tuesday."
"Ergh." Tim raises a hand to his lips. "Um, please don't tell me any more. I'm afraid I'm ill-equipped to handle medical dramas. I prefer to think of the viscera as a metaphor for gut reactions … not actual organs, full of blood and … ew." He shudders.
"Okay."
"However, I'm not entirely without resources. Allow me to introduce you to Dr. Gregory House, a brilliant consulting physician. House, please take good care of her."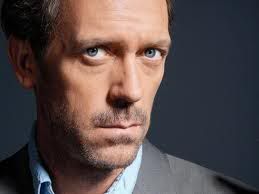 House glares at Tim. "She's a middle-aged woman with a stomach ache. You called me here for
this
?" He gives Lisa a cold, clinical look, then turns to go, saying, "It's acid reflux. Unless you've got diarrhea. Then it's irritable bowel syndrome. Or some other middle-aged white woman ailment."
At the word 'bowel,' Tim scurries from the room.
"I don't have acid reflux," says Lisa. "And I don't have diarrhea."
House pauses at the door. Without looking back, he says, "I'm bored. And I'm between cases. When I'm bored I get into trouble. After your endoscopy, have all your test results sent to me."
October
House limps into the examining room, glances at Lisa, and asks, "The author, right?"
"Uh … yes. I'm an author."
"I looked up some of your interviews online. You like to joke you're a teenage boy trapped in the body of a middle-aged woman."
"I do use that joke sometimes."
House hands Lisa a photo of the inside of her stomach. "You'll have to retire that joke. Turns out you're a sixty-year-old hard-drinking man trapped in the body of a middle-aged woman. Your pancreas looks like it belongs to a blues guitarist who's been on the road partying for decades, not some little woman author from Oregon." He sighs loudly. "You should be
Buddy Guy!
Why couldn't I get Buddy Guy?"
Lisa studies the photo, all baffling internal chutes and ladders, to her eye. "But I don't really drink."
House cocks his head. "You don't?"
"I mean I have a glass of wine once in awhile, and a margarita when I go out for Mexican food … and sometimes a foofy cocktail with friends … but I'm barely even a social drinker."
"Huh." He shrugs. "Your chronic pancreatitis is idiopathic, then."
"My … what is what?"
"It means we don't know what caused it. Chronic pancreatitis. You've got it."
"Oh!"
"No more margaritas for you. The chronic pancreatitis most likely caused SVT, which in turn caused —"
"SVT?"
"Splenic vein thrombosis. A clot in the spleen's vein. Which caused gastric varices. Your spleen will have to come out."
"My spleen will have to come out? Are you sure?"
"Well, we could wait around for your varices to rupture, and you to start bleeding internally. Then we'd remove it during an emergency surgery. Your call."
Lisa pales.
"It's no big deal. We can do it laparoscopically. Unless there are complications during surgery. Then we'll open you up like lunch box and have that spleen out in a matter of minutes."
Lisa takes a deep breath. "What would you do?"
House turns serious for a moment. "I would have it removed."
She nods. "Okay. Let's do it. Hey, aren't you supposed to misdiagnose me first, then find the real problem and solution in a dramatic
denouement
?"
House's blue eyes sparkle. "Lisa, this is real life."
November
Mini-Surgery
The morning of the surgery, Lisa undergoes a procedure called "embolization" of the splenic artery. The point is to cut off blood to the artery that feeds into the spleen, thus reducing the amount of blood that would be lost during the splenectomy.
It is fun.
In a parallel universe.
In
this
universe, it requires a wire to be threaded through Lisa's arterial system, starting in the groin. Pre-surgery, the radiologist discovers that Lisa is ticklish. He discusses this inconvenient trait with the anesthesiologist, and they plot to sedate the ticklishness out of her.
And indeed, she is sedated enough not to care about the IVs and the mortifying prep and the wire and the cold operating room and the occasional loud commands from the radiologist, "LISA, DON'T MOVE OR BREATHE."
Surgery
After the mini-surgery, Lisa has to lie flat for a couple of hours. That handy sedation keeps her unaware of time passing. But her spleen actually starts to hurt. Who knew? The spleen is a hard-working, unassuming organ that never asks for thanks … it will only start to complain if you
cut off its blood supply.
Pain meds don't seem to help. By the time Lisa is wheeled into a second operating room, she can't wait to be unconscious. The anesthesiologist obliges.
Surgery … recovery … pain … nausea … etc.
After a very long day, Lisa's husband kisses her and goes home, leaving her in the kind, capable hands of the nursing staff.
Post-surgery tips:
1) The day after surgery is the worst. It helps if you remind yourself, "I'll feel better in a couple of days."
2) If a doctor who looks like she just walked off the set of "House" comes into the room and introduces herself, saying, "Hi, I'm Doctor O, and I work with Dr. M (your surgeon)," and you instantly vomit, don't feel bad. Anesthesia makes a lot of people sick. *
3) Be sure and use the little breathalyzer thingie to keep your lungs moving.
4) Be sure and start walking the halls as soon as you can to keep your blood moving.
5) Prepare to hear the question "Have you passed gas yet?" every day until you actually do. Then the nursing staff will actually make a note of this in your file, using the word "flatus."
6) Don't get mad at the nurse assistants for round-the-clock-every-two-hours temperatures, blood pressure, blood oxygen readings, etc. It's their job. The tips of my fingers were sore and scabby after five days of blood sugar tests. Oy.
7) The pain meds will help you heal. If they don't work, tell someone. They'll figure out something that works.
One week post-surgery
Tim Gunn steps into the workroom and calls cheerfully, "Morning, Lisa."
"Hi, Tim." Lisa stands before him in her bathrobe.
"What is this?" he asks, taking in her plaid pajama pants, blue t-shirt, green robe, and sheepskin slippers.
"I had surgery last week, so I've been taking it kind of easy."
"You had surgery last
week
, and you're still wearing your pajamas?" Tim asks, appalled. "Did they remove your dignity?"
"No, my spleen," says Lisa testily.
"Oh, dear."
"I put clothes on when people come to visit," she mutters.
"Well, it's good to know you've retained some sense of decorum." He pauses, then says, "Aw, you'll miss venting your spleen, won't you?"
"Yes, I will! But I guess it's time for an era of the less splenic Lisa."
"How are you feeling?"
"Better every day. Where's House?'
"Back on another mystifying case, so he sent me. I'm glad you're healing nicely. Do you feel like writing yet?"
Lisa shakes her head. "No, I don't even feel like reading, let alone writing. I'm on pain meds, so I'm only really capable of watching TV. But once I start getting the urge to write again, I'll probably start with a blog post."
"Good idea. Flex those writing muscles."
Lisa smiles. "In the meantime, there's a House marathon on TV today."
* This actually happened. She introduced herself, I said, "Don't take this personally," and hurled.
I'm thankful for the last splashes of color in my yard before winter takes hold: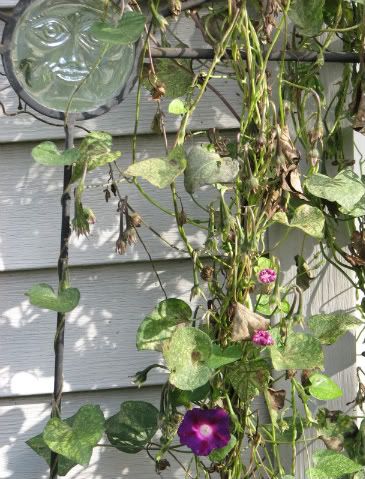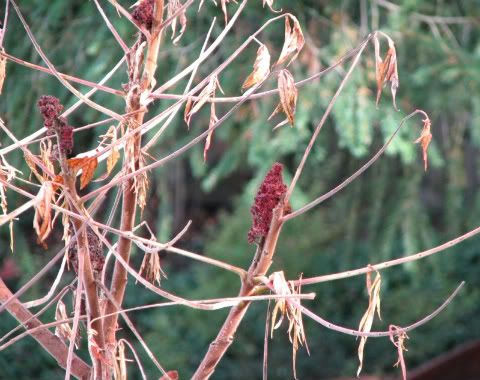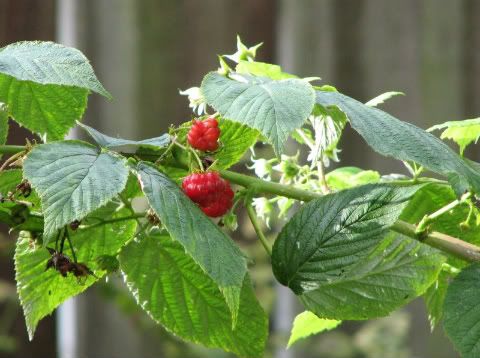 And I'm thankful for YOU, readers who visit this blog even though I post sporadically and self-indulgently about whatever I feel like … from fantasies about Tim Gunn to silly analogies about corn and writing. Thank you.
I'm going to be offline for the next week, so I thought I'd express some gratitude before I go –
Current Mood:

cheerful
(speaking in stentorian voice)
It is now time for me to dispense advice to aspiring authors … because all published authors are required to do so. (It's in the contract, people. If we refuse, they kick us out of the Published Club.)
Heretofore I have resisted the obligation, but my "opt out" period has expired, thus I must foist my wisdom upon the masses. You're welcome.
What's that?
You say you don't visit my blog for writing advice … that you have your own process, thank you very much?
(frowning)
Don't you know there is only ONE WAY to write a novel?
I shall now generously impart this secret.
First, you must … hmm?
You say that you, collectively, are a vast expanse of gloriously various people? That there are many ways to write a book? You say you want to do
National Novel Writing Month
, and fast-draft an entire novel in 30 days? Or you say you want to take your time and write slowly, revising as you go? Or you want to write in bursts, then take a few days off? Or you want to hole up in a hotel room for a week and write until your eyes cross? You say that not only does each writer need to find what works best for her,
EACH BOOK REQUIRES ITS OWN APPROACH?
Oh.
Okay. Then just enjoy the silly analogy.
(giggling)
Clearly, I was being facetious. There is no One Way to write a novel … but there's a dizzying amount of advice (Free! Today only!) on the Internet about how to do, well, everything, including write a novel.
In the spirit of strained similes, here are some RULES FOR WRITERS … as illustrated by the life cycle of corn. In my garden. (Except for the last photo … I don't have acreage.)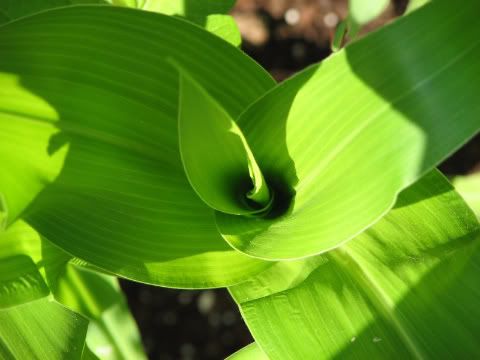 1)
Start writing. That's the hardest part. Really.
Before you know it, your seed of an idea will no longer be ephemeral. It will burst open and grow roots and force its way into the light. Once your idea grows into an actual story, don't be afraid to explore its depths and spirals – you can always revise later. You can't revise a blank page.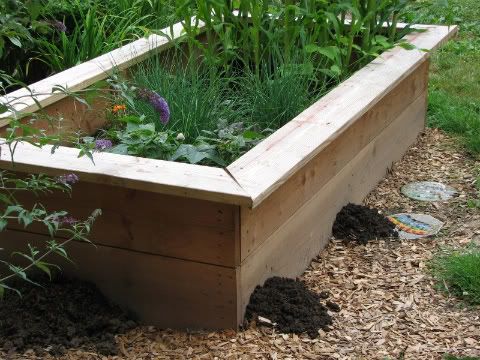 2)
Protect against destructive pests.
Most of us struggle with doubts and fears during the writing process. But if you have a strong network of friends and supporters – chicken wire! – those moles of doubt can only scrabble at your work, but they can't destroy it.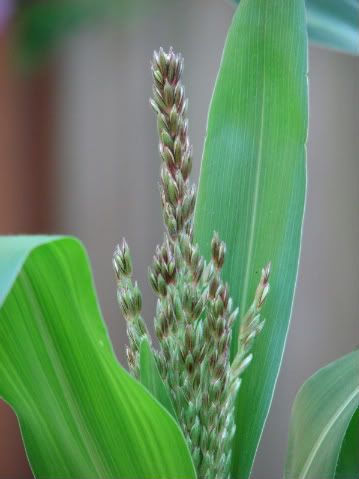 (This photo is a little blurry because corn tassels are never really still.)
3)
Take chances.
Pollen has to drift from the tassels to the cornsilk in order to produce kernels. Stretch and tremble and take risks as you write. Trust that this will produce results.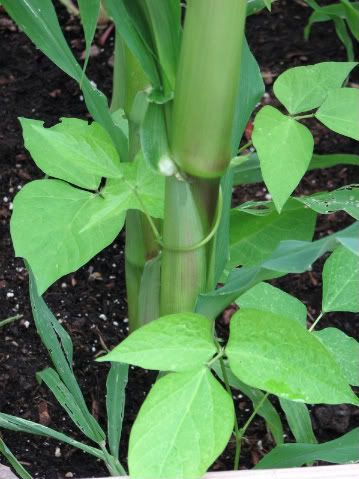 (Bean plant climbing up cornstalks.)
4)
Offer support.
Writing is a solitary activity, so it's important to connect with other writers. Join a critique group. They are INVALUABLE at offering insights into your work that you may never see on your own. In turn, you will provide them with thoughtful feedback.
Be part of a writing community. Cheer your peers!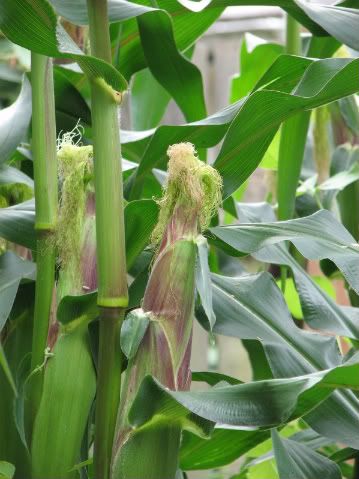 5)
Let your work ripen.
The corn in this photo looks ready to pick, doesn't it? But it's not quite ripe … the silk will turn a little more dry and brown before the corn is ready for eating.
Once you finish your book, don't rush to send it off to an agent or editor. Here's where your critique group comes into play. Revise. Maybe let your manuscript marinate for a couple of weeks, so you can read it with fresh eyes. Then revise again. If you send your work out before it's ripened … chances are it will be rejected.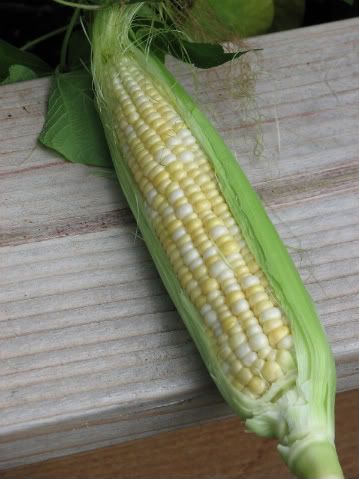 6)
Savor the fruit of your labors!
Go ahead … be proud. Admire your work. It took the right balance of courage, hard work, and careful crafting – soil, sun, and rain! – to produce that beauty.
(Scarlet runner bean blossom.)
7)
Celebrate your friends' success.
If you become a supportive member of the writing community, you get to enjoy the success of your friends as much as your own.
8)
Be humble.
Lastly, once you become a published author … do not be tempted to think you are a special snowflake. It's a huge accomplishment to have a book published, yes, but the Published Club is large.
So! Those are the rules. Now my Unsolicited Advice Obligation is fulfilled.
(chuckling)
Okay, clearly this is meant to poke fun at flat pronouncements. There are plenty of authors out there with very helpful advice regarding the craft of writing and the path to publication. In fact, I link to some of them on my website. But there really is no One Right Way. I thought it would be fun to force a metaphor … and it was. :-)
Current Mood:

silly
Created by the talented team at Novel Novice!