I'm busting with gratitude, so if you're not in the mood, skip the click.



1) Matt Holm came to my son's school Tuesday to be our Visiting Author. For those of you unfamiliar with Babymouse, she's the star of a series of graphic novels. Matt illustrates and co-authors the books with his sister … a certain Jennifer L. Holm. You may have heard of her. ;-) In Matt's presentation to the kids, he mentioned that he and his sister couldn't get any publishers interested in their books. Jennifer L. Holm! Of Newbery fame! Couldn't find a publisher! The happy ending is that Random House finally saw the light, and the books are hugely popular. Never give up, writer friends!

2) I got my piano tuned Tuesday for the first time in three years. Yay! It makes me want to swoon now. I might get so carried away that I do another piano-playing voice post.

3)
lisa_schroeder treated me to a Lifehouse concert Tuesday night! (Tuesday was a big day.) It was terrific! I haven't been to a smallish-venue concert in years. It's good to step out of the comfort zone of just clinically downloading songs. Feel the bass and the drums vibrating the floor beneath your feet … squeeze through wall-to-wall people … admire the beautiful young people in their club clothes … squint against the glare of the oscillating stage lights … feel the PROXIMITY of the ROCK STARS!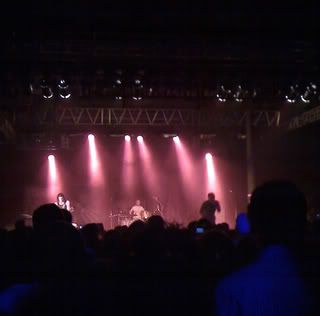 Here's a little cell phone photo of the stage.

I think that's enough thankfulness for one post, although I have SO MUCH MORE. But I'll save it for another day.