Yes!

But this is the last travelogue post, and it's filled with castle-y goodness. (Not to mention the traditional exotic bathroom photo.)

We hadn't even made it Scotland yet in my previous Britain '07 entry. So buckle up because today we're going to cover a lot of ground before we board the plane back to the Colonies.



When we last left our intrepid travelers, they were saying goodbye to their friends in Norwich.

We made our way north through the English countryside, stopping to visit the York Minster, the largest Gothic cathedral in northern Europe.

Any trip to England should include a visit to the Minster, because pictures truly cannot do it justice. As the Lonely Planet guide for Great Britain puts it, "If this is the only cathedral you visit in Britain, you'll still walk away satisfied."

York is a wonderful old Roman city surrounded by 13th century walls. DH and I have been to York before, but I wanted to see the Minster again, this time with my son. Unfortunately, it was after five o'clock when we finally arrived. The Minster was still open for visitors, but we were too late to climb the Tower or descend to the Undercroft … which dates back to the eleventh century. The eleventh century, people! *goggles* Do you know how many times this one church was destroyed by rampaging Danes/rebuilt/burned down/rebuilt/collapsed/rebuilt/damaged by fire again/rebuilt/had parts of it torn down by various kings who thought it needed updating/ad infinitum? And I love the concept of an archbishop in 1220 deciding to undertake a 250-year plan of renovation. Talk about faith!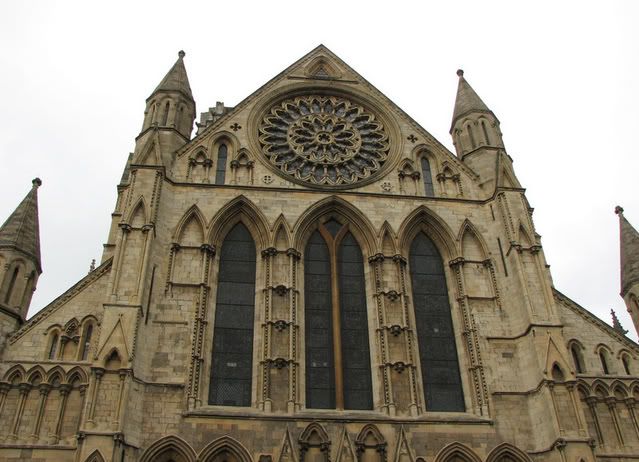 The Rose Window.
The Rose Window, interior.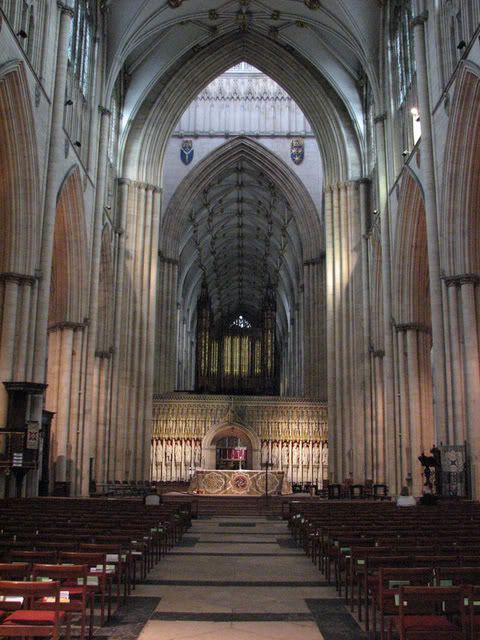 Even the 9yo was awed by this place.


From the sublime to the ridiculous: thence followed the scarring Scarborough sojourn in Hostel Hell.

What was I thinking?

I was hoping to save a few pounds on lodging, and I was charmed by the phrase "former water mill, built around 1600."

The only charming thing about the place was the thick North Yorkshire accent of the bloke manning the desk. "Et's tekkin edges," he said, as explained that something was taking a long time.

Let us take our leave, then, of Scarborough, with its many, many, MANY cheap seaside B & B's and hotels – any one of which would have delivered a decent night's sleep – but which would have deprived me of the chance to jeer and complain.

We spent a paltry $80 on ten gallons of gas for the tiny rental car, and forged ahead. Our destination for the night was Warkworth, a quiet seaside town in Northumberland.

Here come the castles!


Our quaint little hotel was right across the street from Warkworth Castle.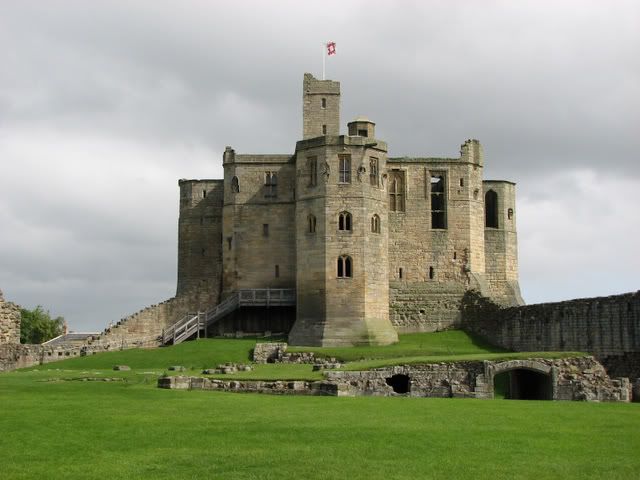 I think this is my favorite castle ever.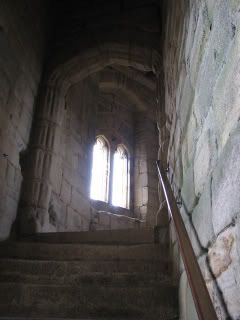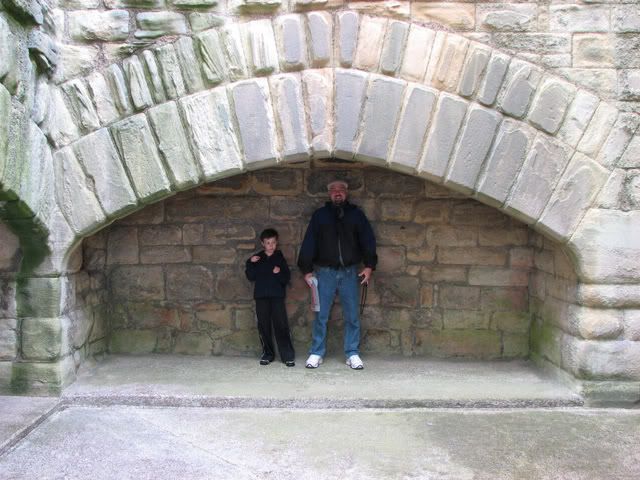 Winters are long and cruel in the north. I love pondering how many thousands of people this fireplace fed and warmed over the centuries.

On our way out of Warkworth, we stopped for ice cream – hey, it was almost 11 a.m. – because when you're driving past an adorable dairy in Acklington, England, you don't just keep going. You pull in, you greet the cows, you order some amazingly delicious ice cream from the amused girl at the counter (I guess they don't get many Americans here), and you savor every mouthful. Early lunch!

Then we drove to Alnwick – pronounced Annick – and toured the castle. I'd read that some scenes from the Harry Potter movies were filmed there, but I couldn't identify which spots. They didn't have signs pointing out the locations. That was okay, though, because there was plenty to see.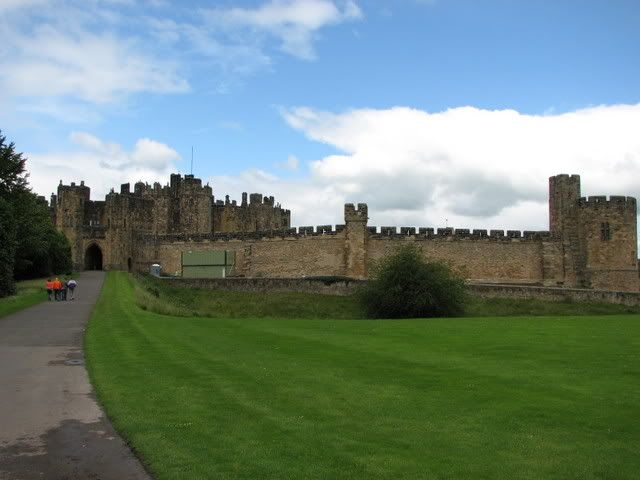 Approaching Alnwick Castle. (Pretend you're driving up in a carriage.)

After Alnwick, we continued north, crossing the border from England to Scotland.

By this point in our trip, my son was immersed in British culture, saying things like, "This is rubbish," to indicate displeasure, watching Wimbledon on TV, and wondering aloud if he could find a cricket team to join when we returned home. He listened to Eragon on my iPod during the long drives, and I even caught him voluntarily reading the "Great Britain Cheat Sheet" I wrote up for him before we left. Astonishingly, he was surviving quite well without an X-Box, the Cartoon Network, or Orange Chicken from Panda Express! We managed to introduce him to a different culture. Granted, it was still a First World culture and they spoke English (kind of), but it's a start.

I will condense our Scottish experiences to a list, because I know this entry is already fifty-seven miles long:

1) The lush green hills made me gasp.

2) Traquair House in Peebles.

3) Skipping Edinburgh to see the Falkirk Wheel – a huge mistake! It was a time-constraint thing. Edinburgh is, well, EVERYTHING. The Falkirk Wheel goes up … then down. At a glacial pace. Yes, it's an engineering marvel. No, it's not worth a special trip.

4) Getting lost and getting stressed and almost getting creamed in the car.

5) The Highlands.

6) Inchnacardoch Lodge in Fort Augustus, where our room overlooked Loch Ness, and where we were treated like family by Bob and Jan, the proprietors, and Jet, their black Lab.

7) Cole spent a lot of time staring at ripples and swirls and shadows on the loch, watching for Nessie.

8) Light until 11 p.m., and then dusk rather than dark.

9) More tattoos in Scotland than England? Hmm. Well, they are descendants of the Picts, known as the painted people.

10) Glasgow. Or, as we will always remember it: Glasgahhhhhhhh! An hour and a half of driving around the city center, stymied by one-way streets, dead ends, no left turns, no right turns, and streets whose names changed from one side of the intersection to the next. Glasgow is hip, urban, teeming with people, and clogged with traffic. It's New York City with an unintelligible brogue. I would have liked to explore Glasgow more fully … I was looking forward to seeing some examples of Charles Rennie Mackintosh design and architecture. However: see above note about driving-aggravation. By the time we located our hotel AND a parking space, we were fried. We just had time to eat, pack, and collapse.

11) Glasgow Airport. We flew away from our vacation. Five hours before the crazies with the truck-bomb showed up. *shivers*

12) Irrational desire to move to Scotland. The people are so lovely. The scenery is so dramatic. The beer is so tasty. :-)

We've reached the end of the trip, and I've saved the best castle for last.

Urquhart Castle, which was nothing but lovely deserted ruins last time we saw it. You had to hike down to see it, thereby ensuring that you could enjoy the stunning views in solitude. Now it's got a visitor center and paths and handrails and you have to PAY to see it. (Ack!) Despite the march of progress, I still love it.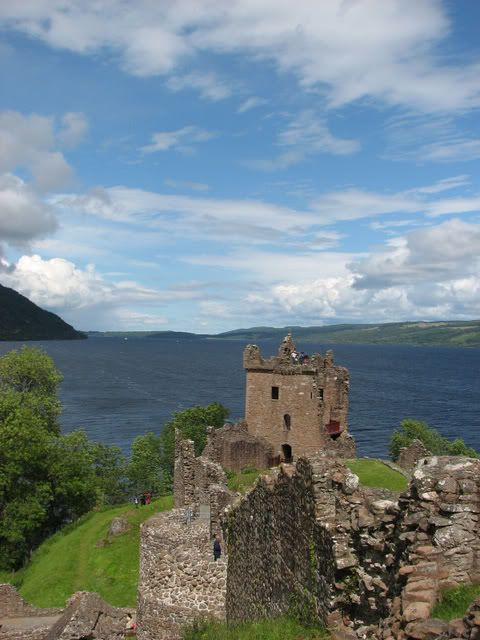 Okay, I think this is my favorite castle ever!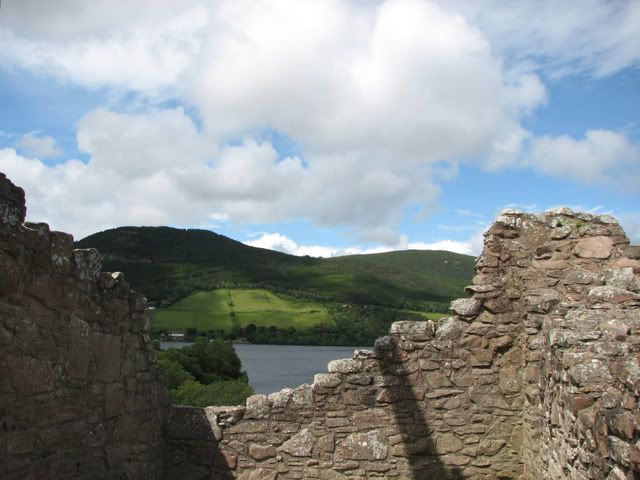 No travelogue would be complete without a bathroom photo for
cynthialord, so here it is, from the Loch Ness 2000 Exhibit in Drumnadrochit: