If not for friends living in Norwich, we would have had no reason to go there.

It's not really near any of the other "must-see" spots, like London, Stratford, York, or Edinburgh. It's off to the right side, in a bulge of the country, about twenty-five miles from the east coast.

But Norwich has everything! (That is apparently the city's motto … but it's true.)

Not only does it have plenty of ancient history – which you want when you're visiting Britain – it's full of modern shops and restaurants and museums. You can visit the 900-year-old Norman castle and the gorgeous cathedral, then spend a couple of hours in the fantastic new children's museum, Origins, where you can lift flaps and push buttons and learn all kinds of cool things about the region's history.

Norwich has everything … except the crowds and traffic and tourists that you will find in more heavily-touristed towns. I don't know about you, but when I'm an American tourist … I prefer not to be awash in other American tourists. Too many of us in one place is overpowering.

The broad Norfolk accent accompanies you like a friendly guide as you navigate the city. It's a writer's delight, puzzling and intricate. (See my attempt at the vernacular and its accompanying translation at the end of this entry.)

But what made Norwich a must-see stop for us was the presence of my old friends R & M, and their two daughters.

This was what greeted us when we arrived at R & M's house in Norwich: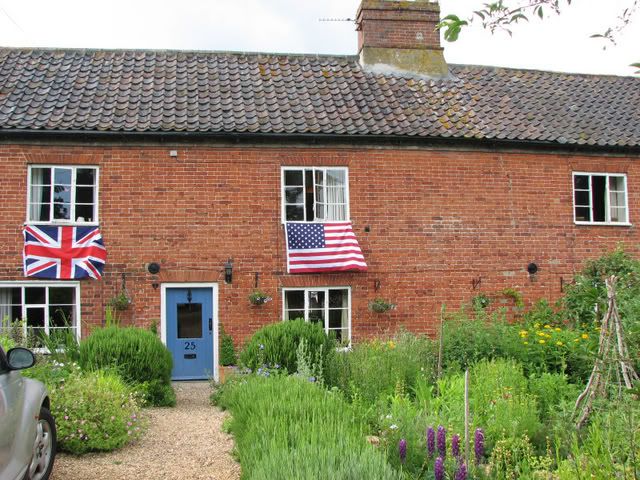 R was a fellow C-floor dorm resident when I lived in England. We clicked right away, and developed a brotherly/sisterly bond. He wasn't dating M yet, but they were on the same course – Pharmacy – so they had classes together. I love to think of them sitting there next to each other in class, never knowing that one day they would be married with two kids.

R and M have two daughters. We'll call them by their nicknames for the purposes of this blog: Jellybean and Midge. Jellybean is 9 ½, like Cole (they're pen-pals), and Midge is 7. Jellybean looks like the traditional English beauty, with milky skin and rosy cheeks. She loves to play cricket and watch Dr. Who. Midge is a quiet little observer who loves to read, write, and play piano. We clicked right away, just as I did with her father so many years ago.

R & M's house is the kind of house I would want to live in, if I were going to move to England.

It started off as a "semi-detached" house … two separate residences which share a common wall. A few years ago, their next-door neighbor decided to sell his house. (His half of the house.) R & M knew they would kick themselves later if they didn't buy it, so they finessed their finances to do it. Then they knocked down some walls to make it one long house.

It is SO COOL - parts of it date back to the 1600s.



This is their dining room, one of the oldest parts of the house.


Here's my journal entry from that part of the trip:

My house was built in 1949. When I sit at my dining room table, I don't think about the previous occupants.

But when I sit in front of this ancient fireplace, I can't help but wonder about the tens of thousands of fires that have been tended here over the centuries. How many stews were stirred and pots of tea brewed … how many loaves of bread were baked in the long, narrow hole-in-the-wall oven … how many girls sat drying their hair … how many sleepy people kept the embers from dying out during freezing winter's nights … how many tears and giggles and songs were spread out over the centuries in front of this hearth … who scratched the double M in the wood to ward off witches … ? I'm so happy to sit here among the long-dead souls who inhabited this room.

We took a Ghost Walk our first evening in Norwich. Our stroll was occasionally interrupted by costumed creepy companions. We listened to Ghostly Dave's stories and viewed the area of the river where "witches" were dunked. By the end of the walk, all three kids were sticking close to the parents, and when a hand reached out and grabbed Midge's little ankle as we crossed a footbridge, I screamed. (She didn't.)

The next day we started our visit to the castle with a tour of the dungeon. Jellybean agreed to be strapped into the witches' dunking chair, and Cole allowed his feet to be clamped into the stocks. We studied the shackles and the "scold's bridle." Hundreds of feet below the ground, in the darkest, dankest part of the castle, we stood in a stone room and listened to our guide tell us grim tales of its past. The castle was originally built to be a military keep. But by the 14th century, it was turned into a gaol, and for the next 500 years, that was its function. People who disagreed with prevailing religious or political sentiment were tortured and kept there alongside murderers. If you had the misfortune to be poor you might end up in prison, too. Prisoners were expected to pay for their imprisonment, and I doubt they fared well if they were there because of poverty in the first place. If your family couldn't afford to bring you food, you subsisted on bread and water.

As our guide neared the end of her talk, she flicked off the lights in the dungeon, cloaking us in thousand-year-old blackness.

When she turned them back on, Midge was wide-eyed, clinging to her mother's waist.

We left off terrorizing the children with ghost walks and dungeon tours, and proceeded to engage in more wholesome activities. The rest of the castle was quite cheerful and interesting, and the children's museum was terrific. I think we parents enjoyed it as much as the kids did!

That evening was the girls' weekly cricket lesson, and Cole was invited to participate.
He did very well, although he dropped the bat when he ran – as you do in baseball – instead of carrying it, as you do in cricket. The coach was so nice he even gave Cole a cricket uniform to bring home.

Saturday we went back in time to the year 1584.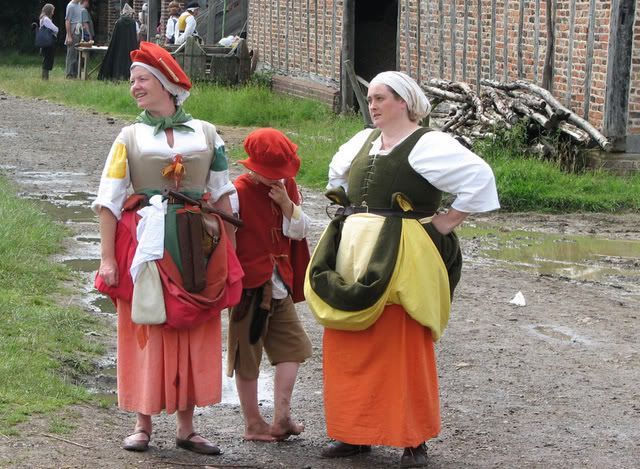 Hundreds of re-creation actors live here for a month each summer, rain or sweltering sun, and we had both that day.


On our way back to 2007, we stopped in Lavenham, a lovely little medieval village with houses so old they list: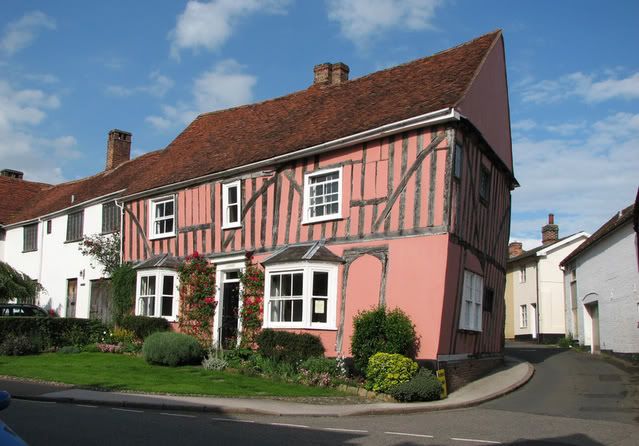 We read a sign outside one of the little houses, which informed us that the structure dated back to the 1400s. M remarked that it made her own house seem quite modern.

Sunday it was time to pick up the rental car and carry on with our journey. R and M went with DH to get the car, so that one of them could drive back with him, giving him directions home.

The kids and I walked Pepper (their dog – we have a Pepper, too!) down the block to the church … another casually ancient structure.



I love cemeteries.


It was hard to say goodbye our friends. I hope they make it to the States before too long, so we can give them as warm a welcome as they gave us.

That's the end o' me Norritch tile, and Oi used more'n a hen's noseful of words and a fair foo foo-toes to tell it. Oi hoop ye dint foind it ta be a load of squit, cuz Oi allus tell it to ye true. Moi attemp at yewsin the vernacular is meant fonnly, and indeed, thar's a group dedicatin' itself to the preservin' o' the dialeck. It's called Friends o' the Norfolk Dialeck – FOND – and if ye foind yeself in town, dew yew come on down to the FOND do. Fare ye well, tergether.

That's the end of my Norwich tale, and I used a lot of words and photos to tell it. I hope you didn't find it to be nonsense, because I always tell you the truth. My attempt at using the vernacular is meant fondly, and there's a group called Friends of the Norfolk Dialect – FOND – that exists to preserve its integrity. If you find yourself in town, stop in at one of their get-togethers. See you later.