Thunderstorms in Newark sent our plane to Cleveland.


dotificus! I was in your state for a couple of hours! And
onegrapeshy! And
sbennetwealer! And … is anyone else an Ohioan?



I'm sorry to say that I wasn't very happy about being in Cleveland, although under other circumstances I'm sure I would enjoy it very much.

When we got to Newark, our connecting flight had flown – about twenty minutes before.

(Note to Newark Airport Deciders: If the airport has been closed to all incoming flights, isn't everyone late? Can't you hold the outgoing flights for a few extra minutes to give the latecomers a chance to make their connections? Rather than send off lots of half-empty planes? Food for thought.)

Long story short, we managed to get ourselves onto a London-bound flight leaving a couple of hours later.

Instead of arriving at 7 a.m. with a full day ahead of us, we finally got to our hotel at about 3 p.m. We washed up and set out in search of dinner. Even though we didn't actually do much, my 9yo son (pseudonym Cole) was entranced. Just walking around in the area near Tower Bridge provided plenty of exotic sights for him to snap pictures of: double-decker buses, boats cruising on the Thames, narrow cobblestone roads, and an ancient church – Southwark Cathedral, built sometime between 1220 –
1420.

We ate dinner in a pub (yay for British beer!) and went back to the hotel to collapse at 6 p.m., after having been awake for more than 24 hours, with mini-naps on the plane.

We slept for a few hours, woke up, went back to sleep, and woke up again. At 3 a.m. I was so wakeful I wandered downstairs to ask the hotel guys to check the Continental Airlines website for our lost luggage: "Not Found."

(Note: Don't you think night-shift hotel staff look forward to the occasional visitor?)

I had packed one change of clothes in my carry-on, and most of Cole's clothes were in his carry-on, but DH had to slide back into his travel-worn outfit the next morning. Uck. We were the first ones in the hotel restaurant at 6 a.m., much to the surprise of the cheery waitress.

We just had time for that quintessential London activity – riding the tube – before it was time to depart for Windsor.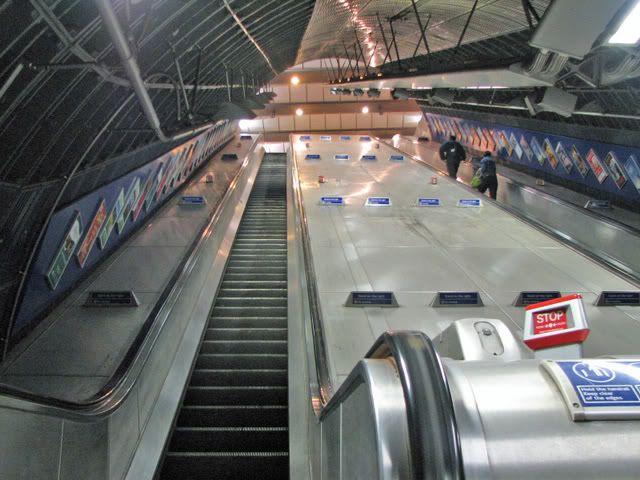 Escalator to the London Underground

You see, nothing else was open at that hour, and more than Buckingham Palace or Big Ben or any other London tourist spots, I wanted to surprise Cole by taking him to Kings Cross Station for this: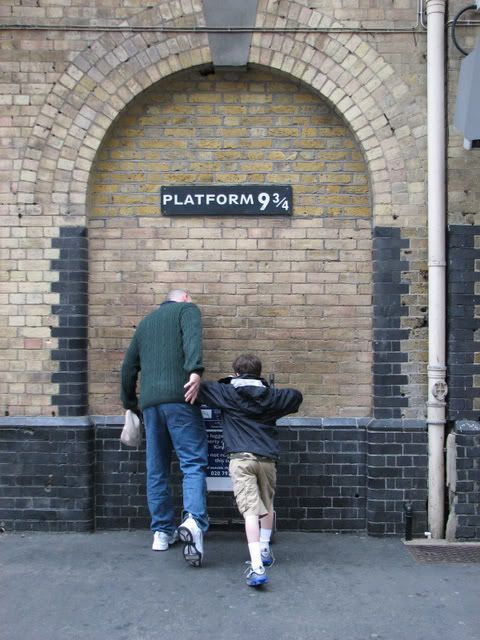 Cole and DH preparing to push their trolley through the wall to meet the Hogwarts Express.


By 8:30 a.m. we were on our way to Legoland in Windsor. I didn't book more than one night in London because it's so expensive to stay there! I figured we would at least have time to go to the Tower of London and ride the London Eye – both kid-friendly activities – but our one full day there got whittled down to a matter of a few daylight hours, by the time our travel challenges were over.

Legoland was rainy, but we Oregonians matter-of-factly zipped up our windbreakers and carried on. We may have missed out on Big Ben and the Changing of the Guard in real life, but we enjoyed them in Lego-form that day. :-D

We got to our B&B at 5 p.m.

Our luggage had not trundled to Windsor during the day. It remained resolutely "Not Found."

In desperation, I asked the landlord if I could handwash a few items like socks and underwear, and throw them in his dryer.

He gave me a blank look and said, "We don't have a dryer. Trying to do our part for the environment, you know."

I gave him a blank look.

Culture Clash # 1
Britain is far ahead of the US in its efforts to minimize each individual's "carbon footprint." There's a lot of focus on reducing food packaging, or creating biodegradable containers; buying organically-farmed cod for their ubiquitous fish-and-chips addiction instead of depleting wild cod populations; and making personal changes like driving less and not using clothes dryers.

!!!

I don't doubt the landlord's statement, but to run a B&B, you would have a lot of laundry. I conclude they must send it out. Thus, are they really saving energy? Doesn't someone have to drive to and from their place to get the laundry?

End of digression.

We rushed out to buy some clothes before the shops closed (at 6). DH stocked up on everything. I bought a few shirts, shorts, and some men's boxer briefs. What – they didn't have women's undies!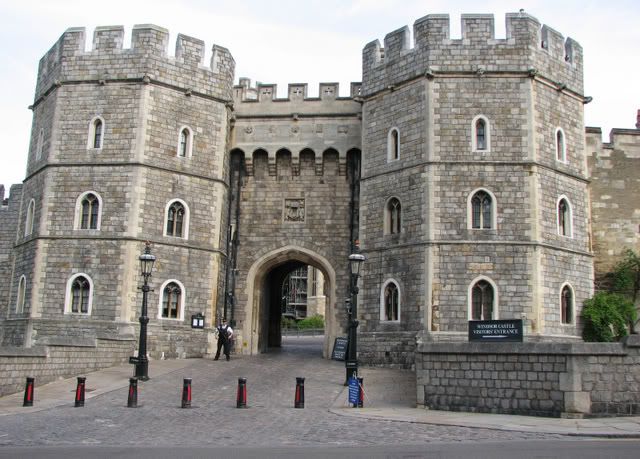 The entrance to Windsor Castle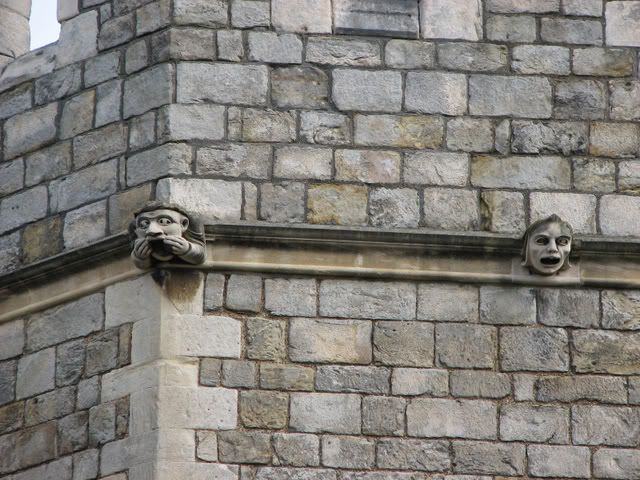 I love gargoyles.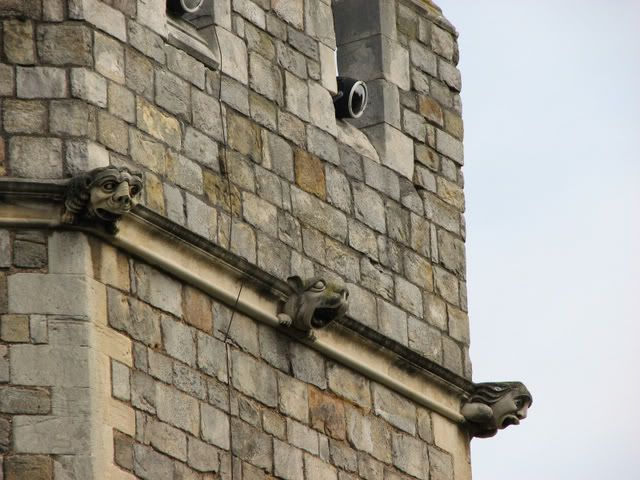 So much.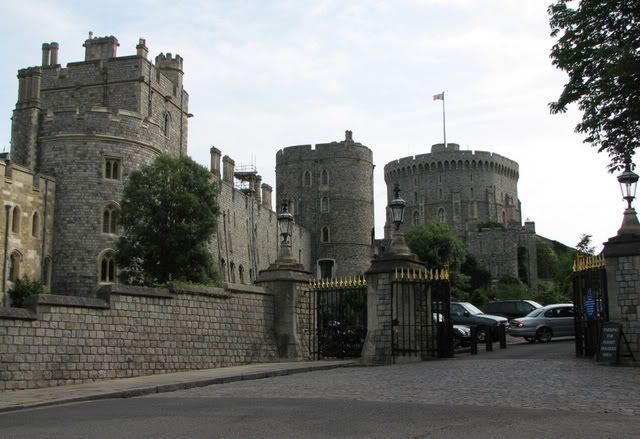 See the flag flying from the Round Tower?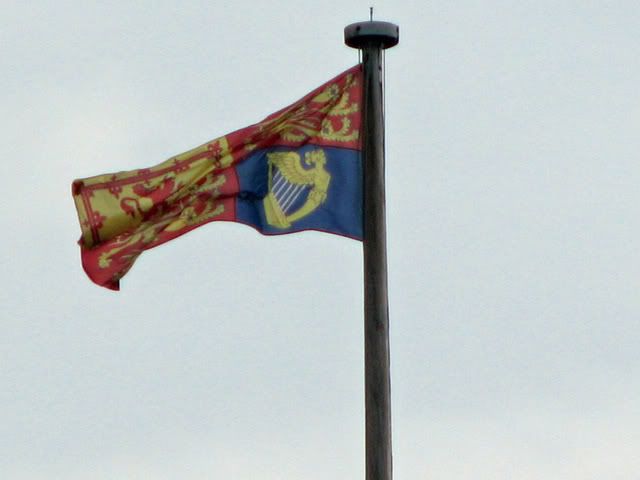 Apparently, when the Queen is in residence, the Royal Standard is flown over the Round Tower, instead of the Union Jack

I had no idea that we would be visiting Windsor at the same time as Her Majesty.

One of the other B&B visitors, however, was in town FROM HOLLAND for the express purpose of doing a bit of Royal Watching. (It was Ascot Week.) Apparently he comes every year. I guess he stands around hoping to catch a glimpse of her while she rides by in her car, or something.

Culture Clash # 2
We Americans really don't grasp the whole Royalty thing, do we? Or maybe it's just me. I wouldn't travel to another state and pay for lodging and stand around with my camera just to catch a glimpse of Bono, and he's the closest thing to royalty I've got.

After dinner, we went back to the B&B and collapsed. At 8:30, DH was snoring and Cole was learning, to his dismay, that Britain has only four TV channels. I was running around in my new boxer-briefs and a bra when there came a knock at the door.

I threw on a towel and opened the door.

Our luggage: She Is Found!

Yay!

Next installment: punting in Cambridge, proper clothesline usage, and golf.