Not counting the photography books I read for research, I read 56 books this year. Dang. Foiled again by George W. *

I think I need to stick to my policy (see last year's December 31 post of not including my friends' books in my Top Ten List. Clearly, I cannot be impartial! Plus, I would just fill up my list with their titles. And what if someone had a book out that I hadn't read yet, and I didn't mention it? Their feelings might be hurt. So for the sake of discussion, let's say that I have read every book ever written by any Real Life or Online Friend, and loved them all, and you should read them, too.

Also!

I'm adding a new wrinkle in my Top Ten criteria this year: I am only going to list books that, when I was forced to put them down to go to work, go to sleep, speak to other human beings, or generally get on with life, I itched to get back to them. Because yes, I did read a lot of moving and important books – books with gravitas – and I'm glad to have read them … but unless they were books that I hated to put down, they're not going on my list.



2006 Top Ten Favorite Books Written by People I Do Not Know

Adult Literary Fiction
Suite Francaise, by Irène Némirovsky
This book is a miracle in more ways than one. Anything I have to say about it will sound mundane. Click on the title to read more about it.

Water for Elephants, by Sara Gruen
I know this book received a lot of good press which helped propel its sales. Good for her! And don't let that prevent you from reading it! I sometimes balk at reading The Next Big Thing, but this is a great story, with a terrific ending. Keep reading past the old guy's reminiscences (I know a couple of people who got derailed by his, er, oldness right away) … it turns into a page-turner.

Case Histories, by Kate Atkinson
It's kind of a mystery. Well, two mysteries, really. But so much more.

Between, Georgia, by Joshilyn Jackson
Not only was this a very satisfying read, but Joss's blog is so, so funny that I've become hopelessly addicted. She's one of those writers who doesn't post tantalizing little snippets on her blog, she spins long, delicious stories. You can find it here: http://www.joshilynjackson.com/mt/

Young Adult
Dairy Queen, by Catherine Gilbert Murdock
I finished this book yesterday. I had about three or four chapters to go when I left work (I had taken it with me to read at lunch) and I wanted nothing more than to drive somewhere quiet, pull over, and read the rest before I went home. I resisted the urge, and when I got home my son and husband were playing a video game. Yay! I made a cup of tea and settled down to read the rest of DJ's story. I loved it! The main reason I picked up this book in the first place is that I saw it mentioned by so many other YA writers as one of their favorite books of the year. Not only does it have a great hook, it's really funny. The narrator's voice is laconic and wry, and she's so solid that you feel really proud of her (fictional) self. (Maybe that's the mom in me.)

Uglies, by Scott Westerfeld
Such a great premise! Now I need to read the rest of the trilogy.

Fly on the Wall, by E Lockhart
I loved this book, especially when the MC (who has transformed into a fly on the wall of the boys' locker room) gets kind of bored looking at naked boys day after day. I do read the author's blog, but she doesn't know me, so technically, it's okay to include her. (I discovered Joshilyn Jackson by reading E Lockhart's blog, as a matter of fact – her Girlfriends' Cyber Circuit thingie, where they promote each other's books.)

(The Last Three Books are Actually Series, But It's My List, So I Can Do What I Like)

Mystery (Adult):
The Mary Russell series, by Laurie R. King, which introduces young, quick-witted Mary Russell as foil to the retired but still brilliant Sherlock Holmes. The series begins with The Beekeeper's Apprentice and ends with Locked Rooms. It looks as if the next Mary Russell book won't be out until early 2009 – gah! Here is the author's blog:
http://laurierking.blogspot.com/


The Maisie Dobbs series, by Jacqueline Winspear
These mysteries combine fascinating post-Victorian class distinctions, characters who have been damaged in a variety of ways by World War I, and a smart, soulful heroine.


Middle Grade:
The Bloody Jack series, by L.A. Meyer
Mary "Jacky" Faber is a survivor - she lost her parents and sister to the plague on That Dark Day. She's bright and pragmatic and wise. I've read the first two books, and can't wait to get my hands on the next two.

No non-fiction this year! I read some ... but it was put-downable.


Other Minutiae and Magnitudiae from 2006:


Best Album Title of 2006
I Am Not Afraid of You and I Will Beat Your Ass, by Yo La Tengo


Favorite New Netflix Candy
"Monk," with the brilliant Tony Shalhoub.


Died Too Young
Steve Irwin, the Crocodile Hunter, 44 years old. My son was crushed. If the stingray's barb had landed a few inches in any other direction, he'd probably still be here.


The Great Geographically Undesirable Job Experiment of 2006
Google came into my house and chipped away at the small nugget of my sanity all year. Not in a virtual sense … in a very Real Life sense. DH worked 90 miles away in The Dalles, wiring the new Google facility to perfection. (Google could have located anywhere – why The Dalles? Cheap electricity, cheap real estate, lots of wind.) (I'm kidding about the wind.) He drove home to us Friday nights, and drove away from us Monday mornings at 4 a.m. Each weekend became, well, a fraught thing. Yes, there was much happiness all around that we were a family unit for those two days. There was also much pressure to fit in all the things that needed doing in order to keep the household functioning in those same two days.

In October, DH "moved back home." We all breathed a sigh of relief. It was a novelty at first: "Honey! Look! It's Monday night and you're still here!" "Dad, will you tuck me in?" "Honey! Will you drag the trashcan out to the curb for the next eight months??!"

Now we have the luxury of taking each other for granted again, thank God.


The "Eyes Wide Open" Exhibit came to Oregon recently
http://www.afsc.org/eyes/about-the-exhibit.htm
I am grateful that none of my friends or family are serving in Iraq or Afghanistan right now. It's always good to keep things in perspective – my husband worked out of town during the year … not in a war-zone thousands of miles away.


Most Fun Trip With My Family
Universal Studios, Hollywood - Originally the trip to L.A. was for a wedding. Then the wedding got called off. We already had our plane tickets, so we went anyway, and played at Universal.


Most Fun Trip Without My Family
Winter Beach Writing Retreat


Best Traditional Holiday Gift
Every year I get the new Best American Short Stories for Christmas. Then I get the urge to write short stories for a few weeks. But it's really hard, so I give up.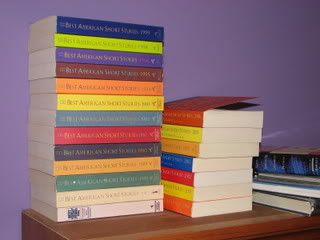 Can't Wait for These Things in 2007
Good news for my own book, I hope!
Trip to England and Scotland in June!
"Harry Potter and the Order of the Phoenix" in theatres in July!
Harry Potter and the Deathly Hallows in bookstores, please???!


2007 Writing Goals
Revise the YA I wrote in 2004.
Rewrite the MG mermaid book.
Write the sequel to the MG mermaid book.
OR
Write something completely new. :-)


Love for My LiveJournal Peeps
I have become very dependent upon the friendly support of this community. Writing is something I do because I love it; trying to get published is something I do because I love rejection. LOL! No, seriously: it's easier to travel this road with you guys. Thanks.

Plus, you're all writers, mostly. It's fun to read your posts! They're micro-books or free teeny essays, or something.

xoxo to all of you and see you next year!



* Bush claimed in August to have read 60 books so far this year.