(Three points to anyone who gets the title reference.)

One sorely-needed stretch of family time.

One-way plane tickets to San Francisco, where we picked up one rental car.

One baby turning ONE year old. Happy birthday, darling nephew!

One brilliant sun hiding all weekend behind the clouds, which decided to burst through and beam down on our birthday beach party. Brightly.

One sunburn on DH's legs so bad that his ankles turned into cankles.

One visit to the Charles M. Schulz Museum. Thanks,
beachalatte, for blogging about it. I got the idea from you! The whole bathroom is tiled in comic strips,
cynthialord, even in the stalls. Hee!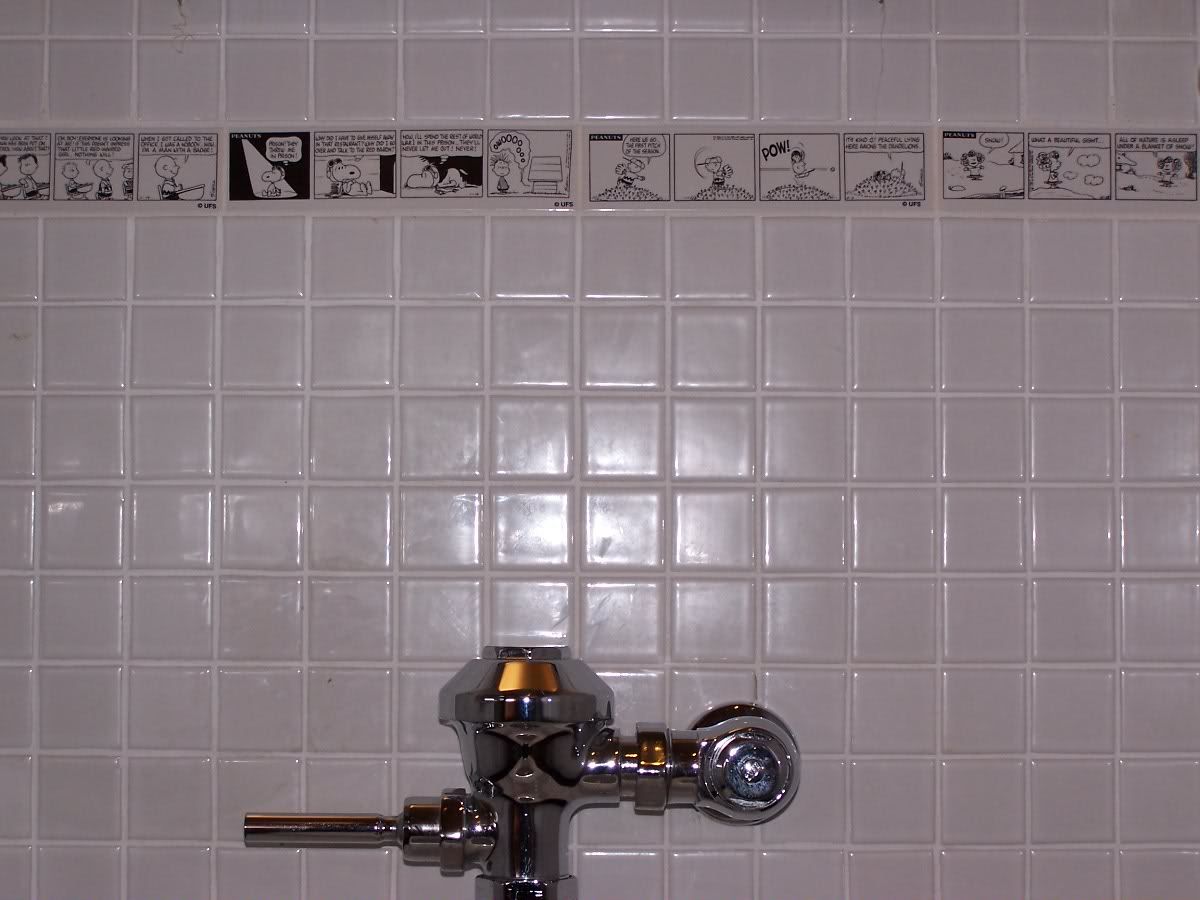 One son happily exploring a whole museum devoted to his beloved "Peanuts," including a showing of the movie "Bon Voyage, Charlie Brown (And Don't Come Back!)."

One drive to Placerville to visit the next sector of the family, listening to Dragonrider, by Cornelia Funke, on CD.

One toddler whose mom said he was "better" after having the stomach flu, despite his continued diarrhea.

One sparkling pool in family's back yard, an August oasis for swimming and playing and watching two dogs dive in after the tennis ball, funny wire-haired terrier Rascal looking exactly like an otter.

One 12-hour period in which I could not even keep down water.

One extra night spent in Mt. Shasta while I was down with the stomach flu. DH said I was worth the extra $134 plus room tax.

One visit to the Collier Logging Museum. Who knew?

One drive to Sunriver for the remaining two days of our vacation. We'd never been there, and were concerned that our status as Oregonians might be revoked. It's a yuppie heaven of bike riding on paved paths, canoeing, kayaking, eating, and shopping. It's where non-campers go to experience nature without leaving behind every conceivable convenience in the world.

One canoe trip down the flattest stretch of river known to mankind, and a waiting shuttle to take us decadently back to the start. Now that's my kind of canoeing!

One of the best books I've read all year – finished on this trip: Case Histories, by Kate Atkinson. It's kind of a mystery? Here's a quick review: "Ms. Atkinson...grabs hold of the reader and doesn't let go....[A] wonderfully tricky book....To read it is to enter a hall of mirrors....[T]he lifelike characters...are what make it such a compelling hybrid." Janet Maslin, The New York Times.

One black dog with one white paw and one black dog with a curved tail sooooo happy to see us walk in the door.

One night of really good sleep … last night. In my own bed!