My husband wanted to show us The Dalles this weekend.

Usually he makes the 90-minute drive home Friday night and returns to work Monday morning. Some of you may recall that he has been working out of town since January, causing me to want to pull out my hair and admit myself to a Home for Harried Women shoulder a larger parenting pack than before.

So it was nice to take a mini-vacation to the place where DH works and sleeps from Monday to Friday.

I love The Dalles! I predict it will be The Next Big Thing, people. You heard it here first! Reallocate your assets and buy some real estate there. I would if I had big assets, instead of just … oh never mind.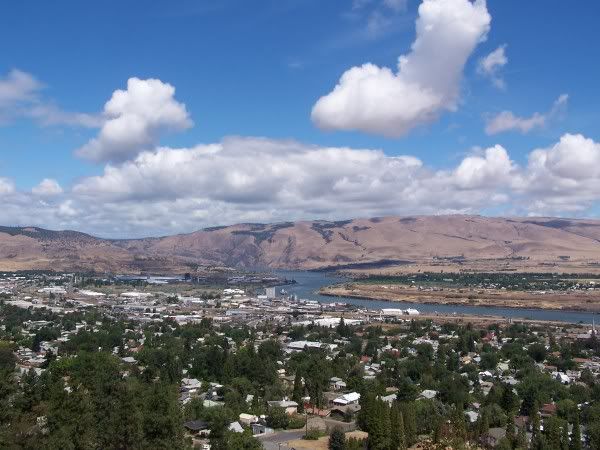 I could point out to you the super secret location of the super secret search engine company that is possibly under construction in The Dalles … but then I would have to kill you.

So instead, admire the beautiful Columbia River … yeah, man: that's how Lewis and Clark rolled.

We checked in to Cousins' Country Inn. and I proceeded to have the best chicken Cobb salad I've ever had in my life at their restaurant. (Marionberry pie for breakfast this morning … still warm!!!) I can heartily recommend a visit to The Dalles purely for the pleasure of eating at Cousins', where the door moos at you when you open it, and the waitress greets you with, "Hi, cousins!"

I started fantasizing about moving to The Dalles, where DH would work at the Super Sekrit Not-Yahoo Place, and I would open a bookstore in the vacant historical building downtown on the picturesque main drag, and Cole would learn to windsurf.

But it's very windy in the Columbia Gorge – hence the presence of the windsurfers. After little more than 24 hours, it was enough already. I couldn't live there. The wind would drive me slowly but steadily insane.

We visited the pool, but the (you guessed it) wind made it more shivery than refreshing. We ate dinner at the best restaurant in town – Romul's – where my DH and his co-workers have attained some kind of notoriety. Hmm.

For some reason my son felt it necessary last night to enact The Purloined Extra Pillow From My Bed, A Tragedy in Three Acts, leading to raised voices and tears and threats. What kind of family vacation would it be without some o' those? At last the two males were asleep, while I cursed the blood-pressure-elevating drama (I don't know where he gets it!!!!!!! *wide eyes and deep sighs*) and tried to get comfortable in a bed which has held a thousand cousins.

We visited the Fort Dalles Museum this morning – the oldest history museum in Oregon. It was great! Your husband and son would love it,
tamra_wight. It's not actually a fort anymore, because the government in the 1860s didn't want to spend any money on it, so all of the buildings burned down, except for the Surgeon's Quarters, which houses the museum. We were the only people there, so the lovely and informative Mary gave us a private tour.

Items like this reminded me how glad I am for electricity and newfangled appliances: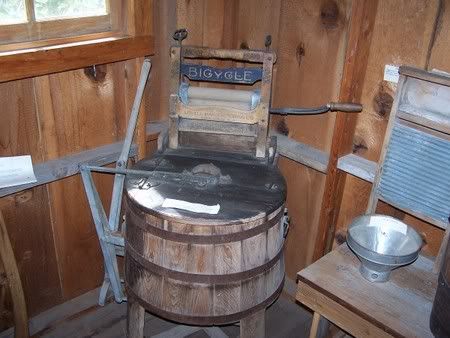 And items like this make me grateful for indoor plumbing: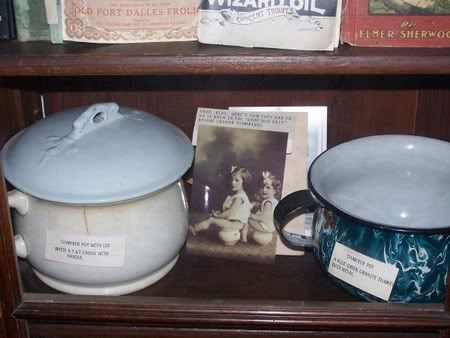 Now I must move into the embrace of my own bed, which is firm and wide and has only one flaw: it resides next to my alarm clock, which will be going off in a matter of hours.

Good-night!