Today I'm pleased to share this interview with Blythe Woolston, author of THE FREAK OBSERVER, another finalist for the Morris Award:
Sixteen-year-old Loa has experienced a year full of tragedy the likes of which most people will never know. She clings to her daily routine and her schoolwork, even as she suffers from Post-Traumatic Stress Disorder. Can you describe some of the research you did for this book?
First of all, in order to write a realistic novel, the story must be grounded in experience of the world. Every living moment is field research.

As far as secondary research ("looking things up") is concerned, when I was writing for Loa, I did the research she would have done for herself. I didn't want to lose her perspective. Knowledge or understanding beyond a character's experience can contaminate the point of view, I think. I defend the perimeter of my imaginary worlds--if something shows up, I must know its provenance.
Each section of the book opens with a fact or observation about physics, a class Loa loves. Are you fond of physics yourself?
Yes. Science is central to me, to how I live in the world.
Have you always been drawn to contemporary realism? Would you share some favorite titles with us?
I'm actually a very promiscuous reader--not genre bound at all. I like books that cause me to realign my thinking. If I start listing favorite titles, there will be no end to that. Chronologically, my fiction list begins with The Magic Boat (Wright) and ends with The Blue Fox (Sjon)--at the moment. As I said, I'm promiscuous and inclined to fall in love again soon.
Is this your first finished novel, or do you have abandoned manuscripts in a drawer somewhere? How long was your publishing journey, from starting the book to getting The Call?
I have an unpublished and probably unpublishable book. While writing it, I discovered how much writing was like reading. There are still some corners of that book I haven't quite read/written yet. I will never abandon it because I love it.

I started work on TFO on October 5, 2007. Between then and January 2009, I was working on it actively for about 4 months. I don't write every day--I only write if I'm interested in doing it. I queried a handful of agents--it wasn't working for them. I submitted it to Carolrhoda in April of 2009 and Andrew Karre said he liked it on August 23, 2009.
The Morris Award is for a "first time author writing for teens." Why do you write for teens?
Because I like them. In my experience, they are smart, funny, fierce people.
What's next in your writing life?
Carolrhoda Lab will publish my second book in early 2012. Other than that, I feel like I need to move forward very cautiously. I have experienced a joy of writing. I want to respect that and make it my priority.
Flash round:

Writing advice in five words or less.
Reveal a world to me.
Favorite fictional character.
Aslaug of Cristina Meldrum's Madapple

Vera Dietz of Please Ignore Vera Dietz by A. S. King

and Little My of the Moomin Tales by Tove Jansson

Those are three that matter deeply to me. Please tell the world if you can...

"You'll never have a face of your own until you've learned to fight."
--Little My, "The Invisible Child" by Tove Jansson.
Spaghetti or sushi?
Sushi--although this one worried me...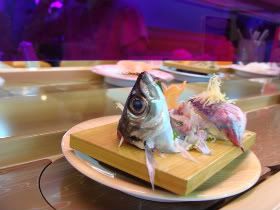 What are you reading right now?
These are the things currently in progress: a couple of non-fiction things for indexing; a couple of things written by friends; and two of the other Morris Award shortlist books.
Three favorite movies.
Tomorrow I might list different ones, but these are wonders that shouldn't be missed, that's for sure: Walkabout (Australia, 1971), Smoke Signals (First Nations, 1998), The Cuckoo (Russia, 2002).
Who do you wish you could meet, living or dead?
Ursula K. Le Guin. I'd like to tell her thank you.
In writing, are you a plunger or a plotter?
A plunger. (Although that word evokes certain kinds of plumbing problems. Maybe we could call it being a puzzler? I collect pieces of the story and then assemble them. Please, let's do. "I am a puzzler, not a plotter.")
Thanks for stopping by, Blythe!