LIBRARIANS! Want to win 46 new MG and YA books?
Go
here
for details.
I realized after my last post that I included plenty of
beach
photos from my weekend, but none from the bookstore event!
Sadly, that's because I didn't take any. I only had my camera phone – which doesn't take great photos indoors – but I was also caught up in the whirl of events!
But my fellow debut author Sarah Quigley did, and was kind enough to share them with me.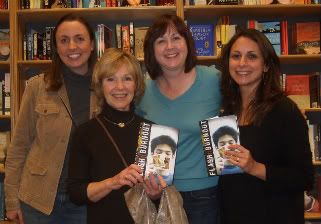 Left to right: Sarah Quigley (author of
TMI
), C. Lee McKenzie (author of
SLIDING ON THE EDGE
), me, and Cheryl Renee Herbsman (author of
BREATHING
).
I had such a great time at Not Your Mother's Book Club, and again, THANKS to everyone who came out for the event!
seaheidi
gave me an Advance Reader Copy of SEA, her beautiful YA novel, which is scheduled for release in June 2010. I feel like I've been waiting forever to read this book, and I gobbled it up in two sittings. Ohh ... so good. Full of love and loss and hope and heat and heart. Most of the story takes place in post-tsunami Indonesia, and Heidi creates such a vivid setting that it leaps off the page. When Sienna (the main character) meets Deni (a 17-year-old tsunami survivor) ...
well.
That scene is unforgettable. I'll post a more thorough review when it's closer to release date. But put this one on your to-be-read list!
Here's a roundup of recent interviews:
Sarah Ockler invites Blake to have a party – what food and entertainment will he have?
Check it out.
Kristin Walker wants to know what one piece of writing advice I would give myself,
if I could go back in time.
Jenny Moss asks me to reveal my
favorite book character.
I confessed to Deva Fagan
my least favorite fairy tale.
Jennifer Jabaley asks several probing questions, including
one about my writing routine.
Saundra Mitchell invites me to answer
9 important questions, like "Legs or pudding?"