1) Happy Book Birthday, Kate!

Kate Messner is one of the hardest working authors I know. Not only does she teach middle school (which means homework!) (and a PATIENT PERSONALITY), she has a husband and two kids, she writes fascinating blog posts about reading, writing, travel and all kinds of things (with lots of great photos), she manages to attend national conferences like ALA (where I finally got to meet her!) and NCTE/ALAN … and she's written everything from picture books to YA novels. I first interviewed her almost three years ago, when her historical novel, SPITFIRE, was released. One of my questions in that interview was, "Early bird or night owl?" Her response explains her stunning productivity: "Both - I don't require a lot of sleep, so I write from 9-midnight after my kids are in bed and get up at 6 so I can run before school."

Kate's debut middle grade novel, THE BRILLIANT FALL OF GIANNA Z., won the 2010 E.B. White Read-Aloud Award. The awards committee said: "Tender, honest. Adults & kids will both recognize themselves in the story. We loved the inter-generational elements, and the fresh, compelling voice."

Today is the release date for SUGAR AND ICE, Kate's newest middle grade novel.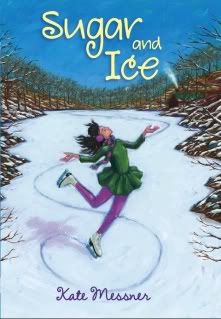 Description:
For Claire Boucher, life is all about skating on the frozen cow pond and in the annual Maple Show right before the big pancake breakfast on her family's farm. But all that changes when Russian skating coach Andrei Grosheva offers Claire a scholarship to train with the elite in Lake Placid. Tossed into a world of mean girls on ice, where competition is everything, Claire realizes that her sweet dream come true has sharper edges than she could have imagined. Can she find the strength to stand up to the people who want to see her fail and the courage to decide which dream she wants to follow?

The book has already made the Junior Library Guild Selection AND Winter 2010-2011 Kids IndieNext List!

When you read a Kate Messner book, you know you're going to get characters so real you would recognize them on the street if you saw them … a plot with gently escalating tension … plenty of humor and heart … AND (she's very clever about this) you will actually learn something, but it won't be dumped on your head, it will be stealthily woven into the story. I've enjoyed learning about leaf identification, beekeeping, maple syrup production, and Fibonacci numbers from Kate. She even has discussion guides at the end of each book.

Now that winter is here, SUGAR AND ICE is the perfect read.


2) The finalists for the 2011 William C. Morris Award were announced today!

http://www.ala.org/ala/mgrps/divs/yalsa/booklistsawards/morris/morrisaward.cfm

I'm very, very excited for the authors! I haven't read any of these debut novels yet, so I'm eager to get my hands on them.


3) The Bridget Kicks Cancer auction was a great success! It raised over $8,700. I'm shocked and grateful that someone bid $320 for a manuscript critique by me. Thank you, winning bidder! I look forward to reading your work … and you'd better believe I'm going to give it the most intensive critique ever!

Not everyone can afford to donate large sums like that – I know I can't. Luckily, you can make donations of any amount directly to Paypal, if you like. Details on Bridget's blog (on the right side of the page):

http://www.bridgetzinn.com/blog/

Any amount is gratefully accepted. You can also opt to just mail a check - leave a comment here if you want to do that, and I'll give you the address in a separate email.