It's been a long time since I've posted an Authorial Intrusion interview, and I'm very excited to host Stephanie Perkins today!

I first heard of Steph from local author Laini Taylor, who had been friends with her online for a couple of years. I started reading Steph's highly entertaining blog, and we struck up an occasional email correspondence. It was a thrill to watch her publishing journey … first as she landed her agent, then sold her novel in a two-book deal to dream editor Julie Strauss-Gabel. I've loved every book Julie has ever edited, so I knew I would love Steph's. When I met Julie at ALA in June, almost the first words out of my mouth were, "Please please please send me an ARC of ANNA AND THE FRENCH KISS!" She assured me I was on the mailing list.

When the book arrived, I dropped everything to read it, and … swoon.

I love this book so much I'm mostly incoherent about it. I keep wanting to compare it to a French pastry, but that wouldn't do it justice. It's more like a five-course meal with the most satisfying dessert in the world. READ IT. You can thank me later.

Rather than continue to babble incoherently, I'm going to post quotes from others about this gorgeous book:

"Perkins's debut surpasses the usual chick-lit fare with smart dialogue, fresh characters and plenty of tingly interactions, all set amid pastries, parks and walks along the Seine in arguably the most romantic city in the world." (Starred review from Kirkus.)

"Featuring vivid descriptions of Parisian culture and places, and a cast of diverse, multifaceted characters, including adults, this lively title incorporates plenty of issues that will resonate with teens, from mean girls to the quest for confidence and the complexities of relationships in all their forms." (Booklist)

"Anna and the French Kiss has a romance that will leave knots in your stomach and have you hugging the book when you finish. The romantic tension is incredibly swoon worthy and the reader will relate to Anna's dilemma of "does he like me-are we more than friends" debate." (Five-star review by Sarah Bean Thompson, teen librarian.)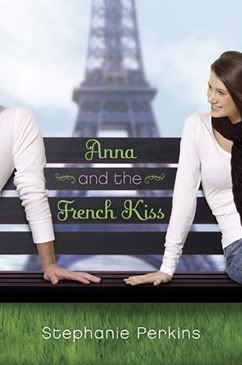 ANNA AND THE FRENCH KISS comes out in three days! I've purposely waited to post this gushing review because it drives me crazy to read about great books I can't have because they're not out for months. But ANNA? Elle est ici.

If you want to bid on an autographed copy - and do a good deed - you can go here and support the Bridget Kicks Cancer Auction.


Mini-bio
Stephanie Perkins has always worked with books—first as a bookseller, then as a librarian, and now as a novelist. She loves swashbuckling adventures, mocha lattes, fairy tales, loud music, neighborhood walks, jasmine tea, and afternoon naps. And kissing. Stephanie and her husband live in the mountains of North Carolina.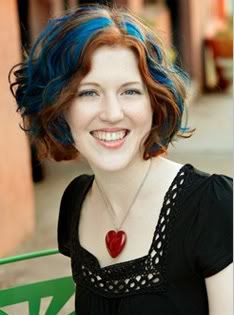 Thai food or Chinese?
If I'm eating locally, Thai. The Chinese restaurants in my hometown are TERRRRIBLE. But if I'm traveling, Chinese all the way!

Advice for writers in 5 words or less.
Write, Revise, Revise, Revise, Revise.

What are you reading right now?
CRACKPOT, by cult filmmaker John Waters.

What's the last song you listened to?
"I Hate Everyone" by Get Set Go (I don't. But some days, I do).

If you couldn't write in your current genre, what would you write?
Choose-Your-Own-Adventure Inspirational Vampire Westerns.

Favorite movie snack?
I'm a classic kinda girl. Popcorn, extra salt! But if I'm watching movies at home, I use hot sauce instead of butter.

What's your cure for the blues?
There's a cure??

Camping or four-star hotel?
Well, it doesn't HAVE to be four-star . . .

Favorite Harry Potter character?
Remus Lupin. He's so kind. He was the first person who treated Neville with respect (rather than pity), and that won my heart.

Snorkeling or skiing?
Oh, man. I'm terrified of the ocean AND hurtling down mountains. I seriously hope I never have to make this decision. How about *you* go in the water/down the slope, and *I* wait for you (with a book) on the sand/inside the lodge?

Spring or fall?
Fall, for the food. Pumpkin bread! Pumpkin lattes! Pumpkin chocolate chip muffins!

Early bird or night owl?
Morning is THE WORST. Why does it exist? Why, why, why?

Thanks for indulging our curiosity, Steph!