October has been PACKED with stuff. But where have I been?

Too beat to blog.

But here I am now to catch up!

Powell's Books Event

I had a great time at Powell's with April Henry and Lauren Kate – we each spoke for a few minutes and read passages from our new books, then we took questions from the audience. Lots of friends and family were in attendance. My dad crossed an ocean to be there (he lives in Hawaii), my sister crossed the prairie (she lives in South Dakota) and my sister- and brother-in-law crossed mountains (they live in California). The book is dedicated to my sister, so her presence was extra-special. She was my primary source for surfing experience, and has been cheering me on throughout my writing adventures for longer than anyone … except my parents.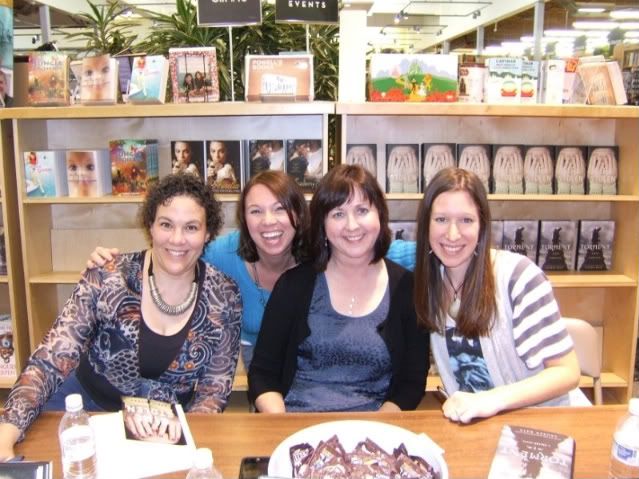 I'm lucky that that Suzanne Young wanted her picture taken with us because this photo is the best one I've got from that day. I think it's because she brightens up every photo she's in! Almost all the shots taken with my camera turned out blurry … or I just look like a dork.





My dad made sure I had a gorgeous lei to celebrate the big day. He is SO sweet.


Wordstock

I was honored to be invited to participate in Portland's annual literary festival this year. Honored and nervous. I envy authors who can stand up in front of an audience and speak so naturally and engagingly! People tell me I do a good job, so either I manage to hide my nerves once I get started … or they're just being nice. I suppose the more you do it, the easier public speaking becomes.

I was on a panel Saturday "YA Gets Real" – with three other authors. We talked about tough topics in YA lit. I was joined by rock star Patrick Ness, debut author Conrad Wesselhoeft, and Anne Osterlund, who acted as moderator. (I didn't have my camera with me that day.)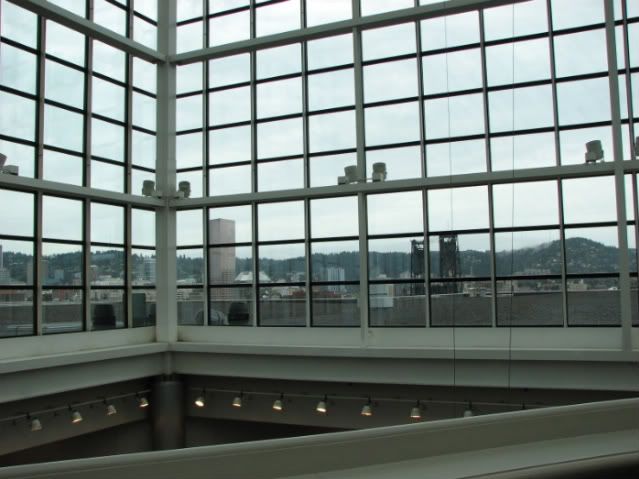 This was the view from the "VIP Terrace" where organizers stashed the authors before their events. I felt fancy hanging out there. And I just love the lines all over this shot.


Sunday I got to meet the lovely and sweet Becca Fitzpatrick, author of HUSH, HUSH and CRESCENDO. My 30-minute time slot was just before hers, so I'm guessing a lot of people in the audience were there for Becca! After all, she's the bestselling author who writes about hot fallen angels.

After we spoke, we signed books. There was one teen boy who waited patiently in line for me to sign his paperback of FLASH BURNOUT. That totally made my day. They weren't selling FB at Wordstock, which means he brought it from home, and maybe came to see me.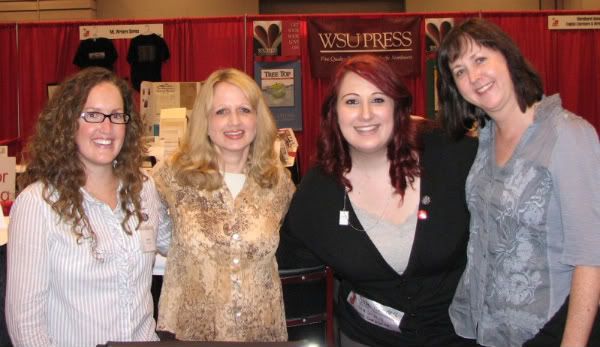 Becca Fitzpatrick, Lisa Schroeder, Sara Gundell (Novel Novice blogger and Wordstock YA coordinator extraordinaire!), and me.


Novel Novice posts

I'm late with my thanks for the honor of MERMAID'S MIRROR being named the October Book of the Month on Novel Novice. Sara and Stephanie (and all the rest of their fellow bloggers) have worked soooo hard putting together great posts, a contest, and I hear there will even be a book trailer video! Here are some links to interviews and fun stuff:


Part one of an interview with me. Sara and Stephanie decided to start right off with the hard-hitting, incisive questions: How do mermaids have sex? :-D

Part two of the interview. I get to gush about other authors!

A playlist of songs to listen to while you read MERMAID'S MIRROR. Some are from my own playlist … some are mentioned in the book … and some are just silly.

A fabulous look at mermaid myths, legends, and pop culture.

The contest is open to entries until October 31st!