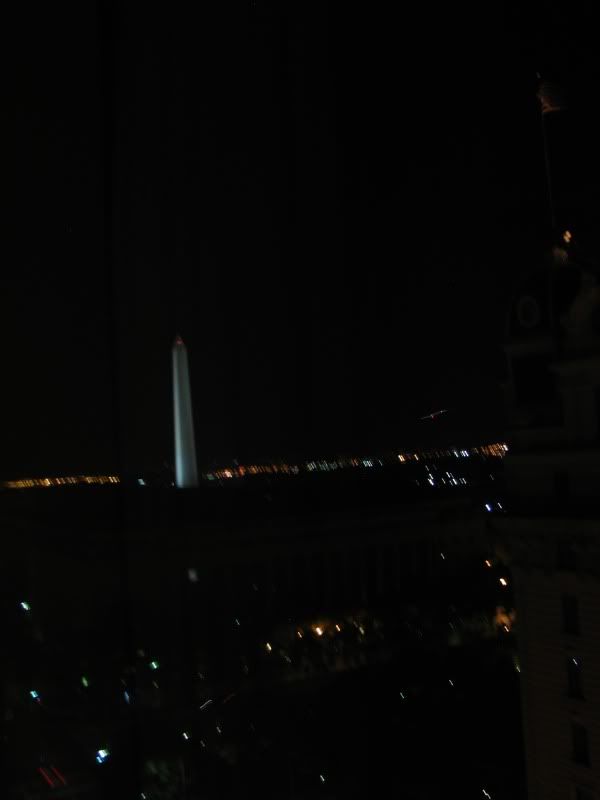 I know this is just a low-quality night photo, but … it's the Washington Monument! I saw this from my taxi on the way to my hotel – it's such a big, beautiful landmark you can see it all over the city. (The photo was actually taken from my hotel room – if you looked to the left, there was the monument. Right there!)

I got in late Thursday night, admired the view, and went to bed.

I woke up at 5:30 a.m. (2:30 for my body clock!) so I could get ready for my visit to the White House. By 7:15 I was waiting in line, as directed. After passing through reassuringly tight security, I found myself strolling through the White House. You're not allowed to bring anything with you but your ID and your keys, so I didn't take any photos … but it was VERY COOL. You can read about the rooms here. I got a little teary thinking about all those generations of First Families roaming the halls … the kids running around … and especially, the living history that continues today inside those walls …

Did you know that the British burned it in 1814? I didn't.



History was never made very interesting for me when I was a student, but I love it now. The fire was in retaliation for American troops destroying some public buildings in Canada. Legend has it – and this is even printed in the White House pamphlet – that Dolly Madison saved the portrait of George Washington from the fire by carrying it off before the troops arrived. WELL. My friend Wikipedia quotes Paul Jennings, one of Madison's slaves, as saying this:

"It has often been stated in print, that when Mrs. Madison escaped from the White House, she cut out from the frame the large portrait of Washington (now in one of the parlors there), and carried it off. This is totally false. She had no time for doing it. It would have required a ladder to get it down. All she carried off was the silver in her reticule, as the British were thought to be but a few squares off, and were expected every moment."

Jennings said that the people who saved the painting and removed the objects were:

"John Susé (a Frenchman, then door-keeper) and Magraw, the President's gardener, took it down and sent it off on a wagon, with some large silver urns and such other valuables as could be hastily got hold of."

After this he said, "When the British did arrive, they ate up the very dinner, and drank the wines, &c., that I had prepared for the President's party." (Source: University of North Carolina at Chapel Hill.)

Okay, I'm getting off track here by geeking out over all this White House history (did you know it used to be called the Executive Mansion? Then it was called the President's House. But it was known popularly as the White House, so Theodore Roosevelt formalized the name when he moved in), so back to the ALA trip. Visit the White House, if you ever get a chance!

The only real plan I had for Friday was to attend the celebratory dinner for all the Morris finalists, so I had time for breakfast with fellow finalist Malinda Lo. We walked around a little, and took photos in front of the White House, and tried to pretend we weren't being slowly, inexorably drained by the heat and humidity.

After we said goodbye, I went back to my room, realized I wasn't going to rest while rooms were being cleaned nearby, and also realized I didn't have enough time to tourist-ify. The National Museum of Women in the Arts was within walking distance. I like women. I like arts. I'm even a woman in the (wordy) arts. So I walked there.

Of course, it's 'walking distance' if you're accustomed to temperate weather. It's a long swim through hot soup when the weather is 95 and sticky. But I was refused to hail a taxi for such a short distance.

That day.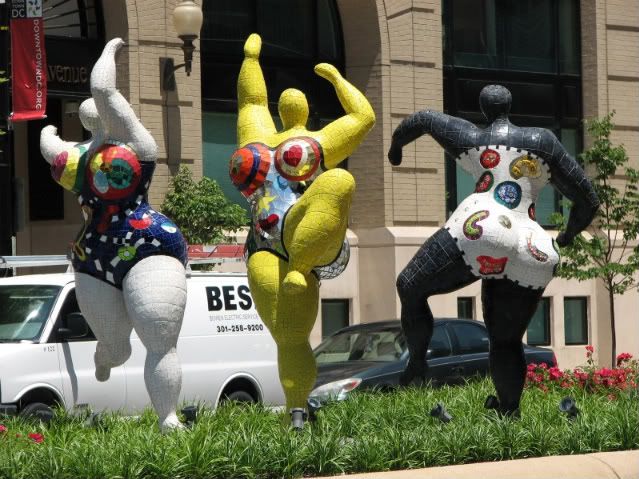 Here's some big, bold art by Niki de Saint Phalle gracing the street outside the museum.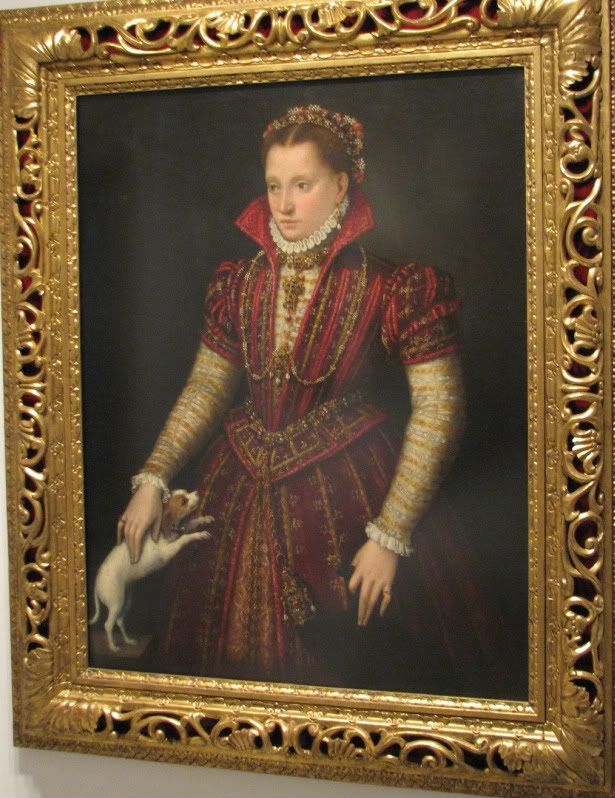 This painting is called "I Need a Bigger Dog." (Not really … I didn't make note of the title.)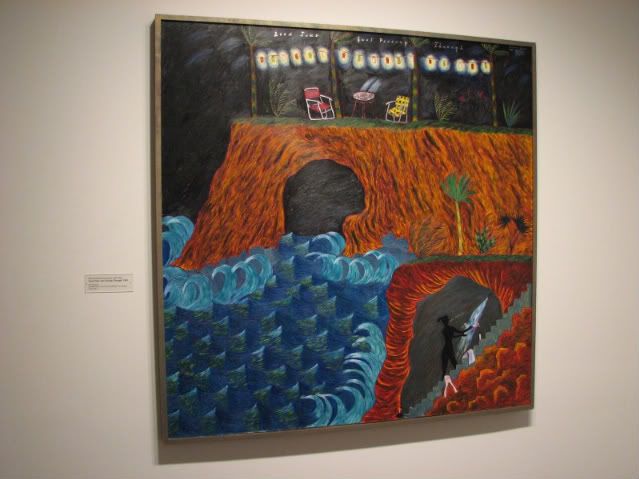 This painting is called "Good Time Just Passing Through," by Hollis Sigler.
I loved this wall size sculpture made out of rubber tires. It's called "Acid Rain," by Chakaia Booker.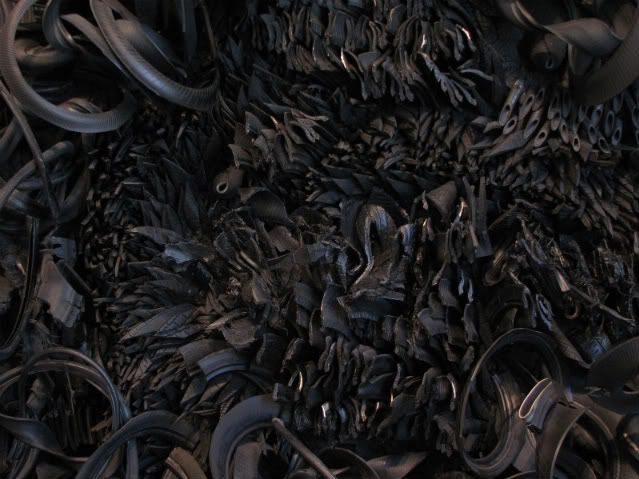 Here's a detail from the rubber sculpture.


After an hour or so at the NMWA, I walked (still stubbornly refusing to get a taxi) back to my hotel. I hydrated, flopped on the bed for a little while, then got ready for the Morris dinner.

This next section could be sub-titled, "What is all over the Morris Award winner's chin?"

I was very excited about the dinner Friday night – I got to meet my editor for the first time, and my publicist, who worked so hard getting me to ALA. We shared a cab to the restaurant, where we met the other finalists (Malinda Lo, Nina LaCour, Amy Huntley, Kami Garcia, and Margie Stohl), and their publishers, and the Morris panel of librarians (most of them – a few couldn't make it).

We gathered at Tosca Ristorante in a private room, made introductions, and mingled. Cunning little hors d'oeuvres were circulated.

Oh cream puff catastrophe … I still wince at the thought of you.

I bit into a plump little puff … and the creamy cheesy herby filling splurted all over my chin.

Yes, I was at one of the most important dinners of my life.

Yes, people were looking directly at me.

I briefly considered bursting into mortified tears and rushing from the room.

But that would mean the cream puff had won.

I wiped at the explosion.

Some kind soul – I think it was Nina? – said gently, "You've got a little bit …" and gestured to her own delicate nostril.

After this auspicious beginning ("Hi, how are you? No, I don't get out much.") I overheard the waiter say to people in his faux (or real?) Italian accent, "You must eat it in one bite."

INDEED, SIR. Information I would have taken to heart.

I spent the rest of the evening boring the other diners with the story of the Great Cream Puff Debacle of 2010.

Dinner was wonderful – lots of talking and laughing and delicious food.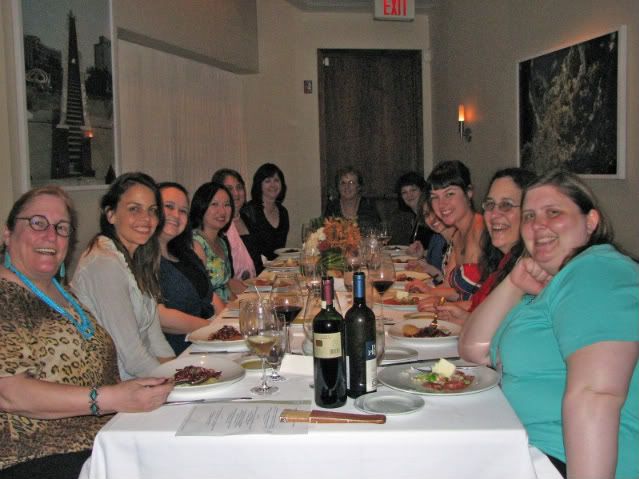 Clockwise from left: Dr. Joni Richards Bodart, Margie Stohl, Clio Hathway, Malinda Lo, Susan Fichtelberg, me, Judy Nelson, Amy Huntley, Kami Garcia, Nina LaCour, Gail Zachariah, and Angela Frederick.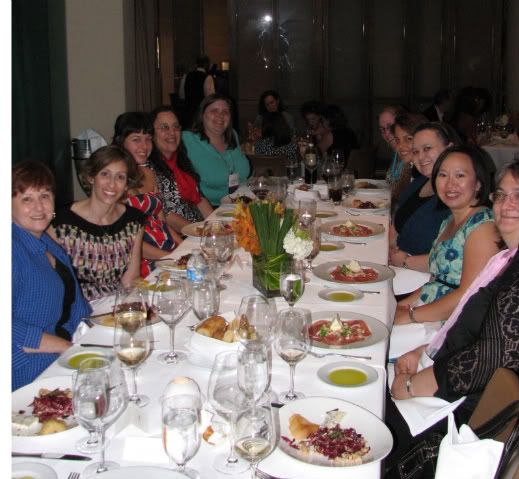 Clockwise from left: Anna Leon (who was hiding in the first photo), Kami Garcia, Nina LaCour, Gail Zachariah, Angela Frederick, Dr. Joni Richards Bodart, Margie Stohl, Clio Hathaway, Malinda Lo, and Susan Fichtelberg.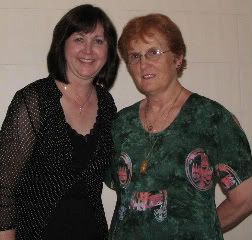 You can't see Judy at all, really, in the first photo, so I wanted to include this one. Judy Nelson was the chair of the Morris panel of librarians.

After dinner, I went back to my room and collapsed. I think I slept from midnight till about … six?

This next section could be sub-titled, "Name dropping commences NOW."

Saturday I was up bright and early to get ready for my signing. My editor escorted me to the convention center, assuring me that I shouldn't be upset if no one came by – that happens sometimes. Then she led me into the labyrinth, deep in the heart of the convention center.

The first people I saw were Jessica Lee Alexander and P.J. Hoover. But they were escalating down, and I was escalating up … we waved as we separated …

I don't have any photos from my signing – I was too busy during the actual hour of the signing to take any. Which is good! It meant that plenty of people stopped by. I was so happy to meet James, of the Book Chic blog, and Skyanne, of (I think) Harmony B Reviews, and lots of other bloggers and librarians.

I also ran into long-time online buddies Kelly Fineman (
kellyrfineman) and Anne Marie Pace (
annemariepace) and Jackie Dolamore (
fabulousfrock), who is also my agent-sister. I remember meeting Amy Brecount White, and Laura Salas, and Holly Cupala, and … lots of other people!

I wandered around the dreaded Floor of the convention center for awhile, getting lost and feeling a mild sense of panic that I would never escape. I think Kelly or Anne Marie pointed me in the right direction for the exit.

Tapas for lunch!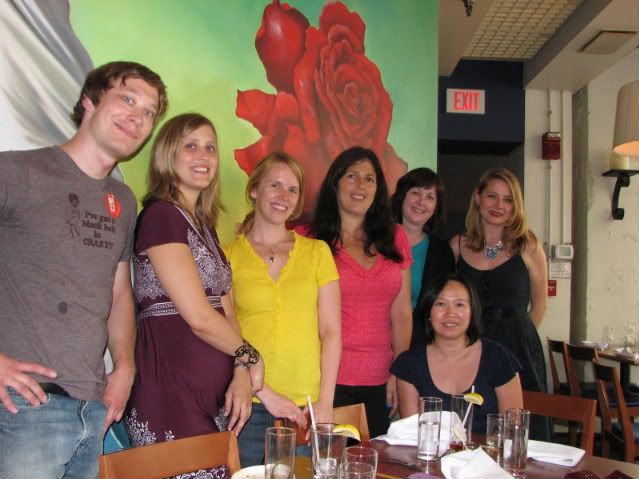 From left to right: Jon Skovron, Diana Peterfreund, Pam Bachorz, Danielle Joseph, me, Malinda Lo, and Holly Cupala.

Although I did not want to re-enter the labyrinth, I very much wanted to meet Kate Messner,
kmessner, one of my favorite authors and an agent-sister. I did find her! But the photo turned out blurry.

I was invited – along with tons of other authors and librarians – to a Tea on Saturday, hosted by Katherine Paterson.

(Please pause while I squeal: I MET KATHERINE PATERSON!)

Long-time online friend and now bestselling author Carrie Jones (
carriejones) and the talented Kekla Magoon were honored by the Vermont College of Fine Arts at the Tea. I was so happy to finally meet Carrie.

I chatted with Liz Garton Scanlon and Sarah Aronson. Then I introduced myself to M.T. Anderson. (Insert more freaking out.) Tobin (I call him Tobin now, heh.) and I fought our way through the crush of literary folk to the iced tea-and-lemonade pitchers. Ahh, sweet relief. We did not have to resort to violence, although that option was briefly considered. When I mentioned that I had finally gotten to meet my editor, he said in amazement, "You've done two books with her? But you've never met her before?" Haha! I explained that that's how most of us do it.

I met LOTS more wonderful authors and librarians.

Then I hit the wall.

Two nights of minimal sleep, jet lag, the enervating heat, the pleasant-but-overwhelming experience of meeting so many people … I stood there in the crowd, feeling sweat trickle down my back, and thought, "I'm done for the day."

To my shame, I bailed on dinner plans with Jackie. She has forgiven me, and even went on to find herself in much better company that night, but still.

I shared a taxi with two of "my" Morris librarians, and went back to my hotel room.

Sunday morning was the YA Coffee Klatch, also known as speed-dating with librarians.

This section could be sub-titled, "Seize her!"

I kept expecting someone in authority to enter the green room where the authors were gathered before the event, and announce, "Is there an L.K. Madigan here? Madigan? Madigan? Oh. There you are. I'm sorry. There's been a mistake. Come with me."

But indeed, I was invited to be there!

I met John Barnes and Stephanie Kuehnert and Jeri Smith-Ready and Simone Elkeles and James Kennedy and Terry Trueman and John Green and David Macinnis Gill and Andrew Smith (whom I've met before). All BRILLIANT authors whose work I admire. There were others, but those are the only authors I remember talking to.

When it was time to enter the huge ballroom, filled with at least 40 tables of 7 – 8 librarians each, I went to my assigned first table, introduced myself, and sat down.

Four minutes later, a whistle blew.

As I approached the second table, a young librarian saw me coming and jumped up about a foot in her chair, and squealed.

THAT TOTALLY MADE MY DAY.

She not only knew who I was … she was excited to meet me.

ME!

Every single lovely librarian was really, really gracious and attentive … even though I was following Terry Trueman, who had stuff for them! And is hilarious. I saw him standing on a chair at one point, holding forth. And I'm sure some of them might have been hoping for the YA Rock Stars, but, well, no one had actually yelled, "Seize her!" and dragged me away … so they got me.

They took a group photo of all of us after the event.

THAT was almost surreal.

Flashbulbs were going off like fireworks. I'm sure there are several photos of me staring in disbelief, my mouth hanging open. But I was sitting next to Terry, so of course pretty soon I was laughing. Then I encouraged him to pose on the floor (he wanted to). I hope I see one of those photos.

I met Laurie Halse Anderson and Libba Bray after that. They are not only insanely talented, but sooo gracious. I said to Libba, "I was not going to leave this town until I met you," and she said, "That was in my packet at the hotel." GOD. She's funny without even trying.

I dragged my heavy load of ARCs back to the hotel with me, where I tried to fit my big head through the door of my room, ate some lunch, and headed back out to ship the books home.

I asked the concierge if FedEx was within walking distance and yay! It was. Five blocks up.

I started off cheerfully.

Within a block and a half I was like, "Really? I still have THREE BLOCKS TO GO??? It's too hot. These are heavy. Wahh."

I persevered and successfully sent my books home. I had some time for sight-seeing before the Newbery Banquet, and while I would've loved to see the monuments, well … they're outside. Where there is no air conditioning.

So I walked – I really did! – to the Smithsonian American Art Museum.

Oh, swoon.

I could have spent five hours there … it was just amazing. When I started to feel tired, I made my way toward the exit … but everywhere I turned, there was another GORGEOUS piece of art, making me stop and gaze at it in rapture.

Here are just a few: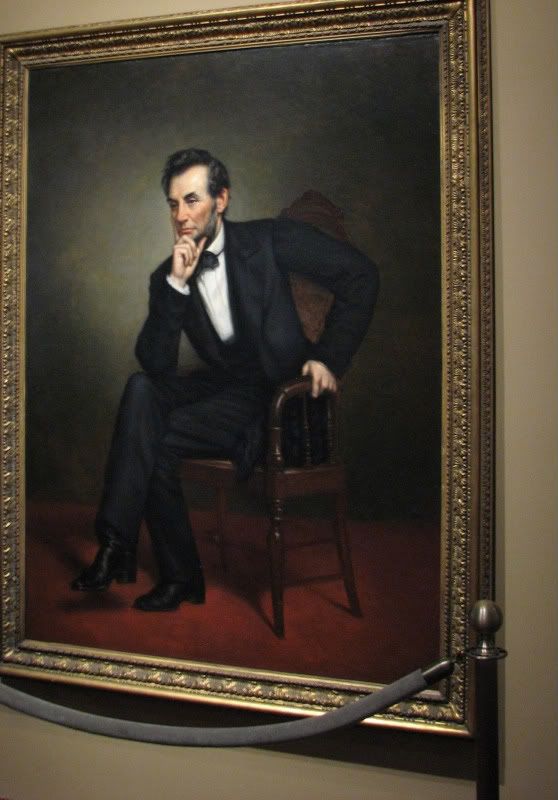 I really like this portrait of Lincoln.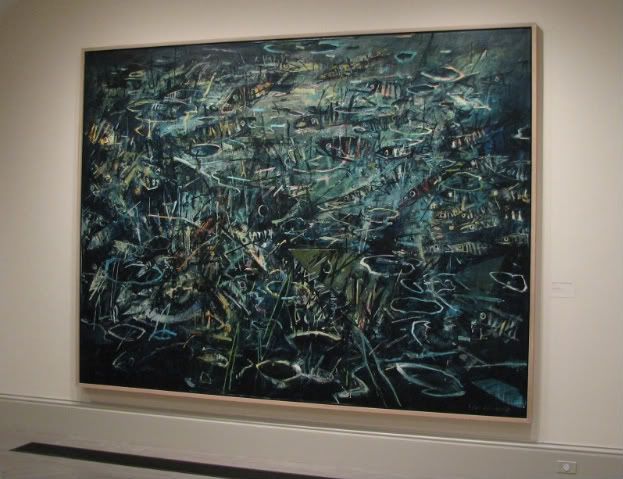 "Living Your Life in a Goldfish Bowl," by John Alexander.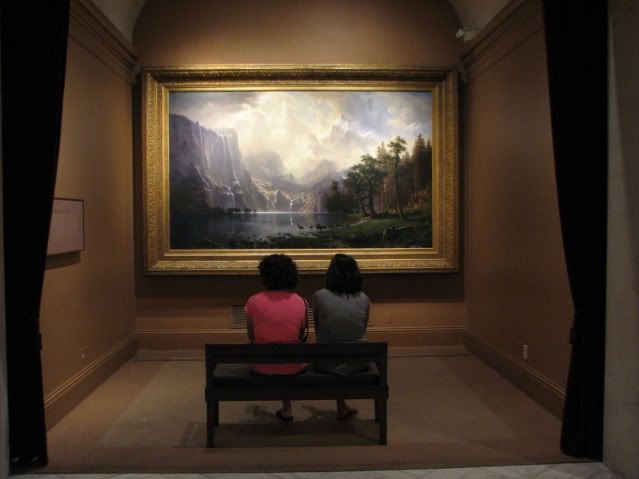 I like the inclusion of the art patrons almost as much as the painting itself.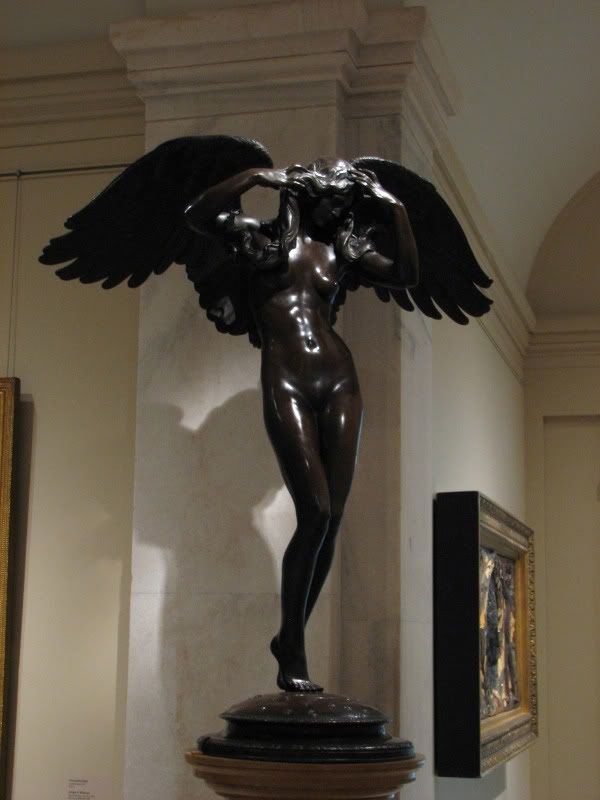 "Descending Night," by Adolph Weinman (born in Germany, died in New York).


I finally forced myself to walk away from the siren-song of all that amazing art, and actually indulged in a taxi back to the hotel.

Then it was time for the Caldecott/Newbery banquet!

I hardly know how to describe that experience. In fact, for a great recap of the event, go here to read Kate Messner's entry about the night.

In between the meal and the speeches, I had to make sure and grab a quick photo with my girl, Lindsey Leavitt -
lindseyleavitt: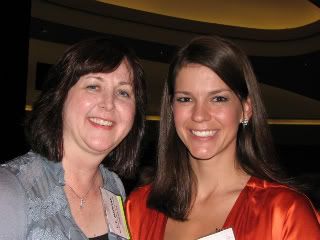 Lisa Schroeder
lisa_schroeder should have been in this picture with us.


On our way out the door after the event, my editor turned to me and said, "Was that Toni Morrison?"

!!!!





One last glimpse of the monument the next morning, and it was time to head for the airport.

I hope I get to attend ALA again someday.

You know the one thing that was missing for me?


sarazarr.