Good morning.

*yawn*

Yes, it's 4:30 a.m. here.

That's what time my husband gets up for work, and I figured I should start doing that, too, this week.

Because four days from now I will be standing at the White House at this time, getting ready to take the tour. I know! I'm very excited.

I am honored to be attending the ALA conference in Washington D.C. next weekend, 6/25 - 6/27.

Saturday morning I will be signing books at the Houghton Mifflin Harcourt booth ( # 3152) from 10 – 11. Stop by and say hi, if you're there.

Sunday morning I will be participating in the YA Authors Coffee Klatch at 9 a.m. – speed-dating my way around the room visiting librarians, along with the other YA authors.

I'm so looking forward to the trip - what could be better than hanging out with a bunch of authors and librarians?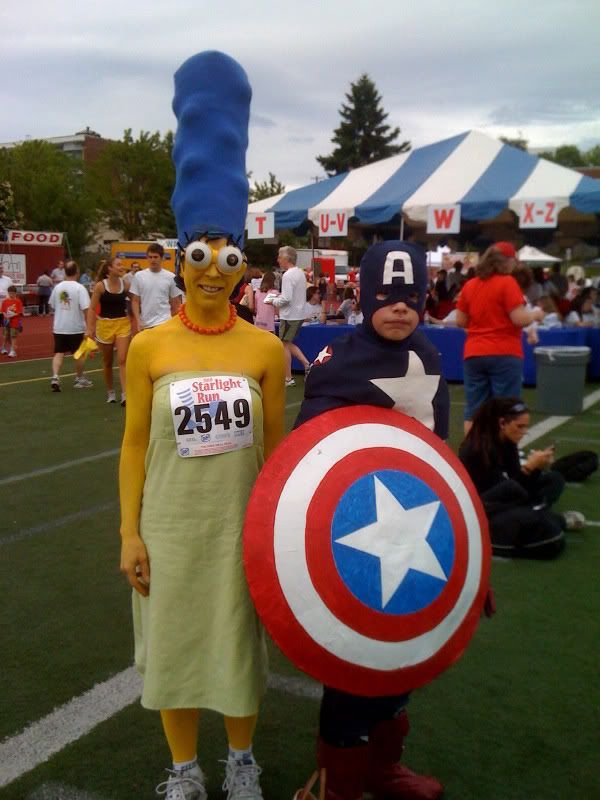 This is my friend Karyn, and her son. They're dressed for the Starlight Parade, an annual jog for the Portland Rose Festival. She took second place for her costume, and her son took FIRST in the kids' category. I just thought this was a cheery sight for a Monday morning.