I'm so excited to host my friend and fellow debut 2009 author Saundra Mitchell today on the blog – she's "touring" in celebration of the paperback release (tomorrow!) of SHADOWED SUMMER, her Edgar Award-nominated YA novel. It was one of my favorite books of 2009 – if you haven't read it yet, what are you waiting for?

I thought it would be fun to ask her about music and writing – she has encyclopedic knowledge and eclectic taste!

Discuss music and writing - whether or not you listen while you write, or just to get inspiration.


THE SONG'S THE THING

As longtime readers of this blog, you have no doubt seen L.K.'s posts calling for songs to add to her writing soundtracks. I always turn up with a suggestion or seventeen, both because I like to share music, and because I know how much a good soundtrack can drive a novel.

I have a playlist for each book I write, and each song on it serves a purpose. For SHADOWED SUMMER, I have Concrete Blonde's "Mexican Moon" as my tempo. The languid pace of it matches the molasses heat my characters swim through. "Not An Addict" by K's Choice keeps that tempo going. "Zydeco Gris-Gris" by Beausoleil reminds me that Louisiana has a richer, more complicated history of language than I find in my own native Indiana.

But there are songs that never show up on a playlist that are still an important part of my novels - and that's the music my characters enjoy. Just like I have a life soundtrack for myself (that features a rather embarrassing amount of Duran Duran...) so do my characters. Figuring out what's on their car radio helps me get a handle on who they are.

That was especially important in SHADOWED SUMMER. In my early drafts, the time period in Ondine felt hazy. Daddy liked Elvis Presley, and Iris didn't care much for music yet. It took me a long time to realize that my "older" characters were actually my age. As soon as I realized that Jack Rhame and Elijah Landry were probably listening to Metallica and Iron Maiden when they were teens, I knew exactly who they were.

Music is more than a pulse in the background- it's a touchstone. Each generation has its own cultural frame- and there's no way I can possibly learn everything there is to know about- say, 1889, when my next book is set. But I can listen to the popular music and get an idea. If the 1980s were synthesizers and sax solos, the 1890s were fiddles, polkas and the very naughty, slow-dancing waltz.

For me, music is another way to get to know my characters - and it's one of my favorites. I grew up in the Era of the Mixtape - sharing music on Blip.fm, or in L.K.'s song posts, or in guest blogs like this one is like going back to sixteen for me. And since I write for teens, sixteen is an excellent place to be.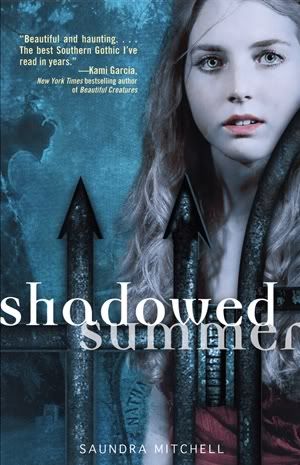 SHADOWED SUMMER by Saundra Mitchell
In paperback June 8, 2010
www.shadowedsummer.com

Listen to the soundtrack for Shadowed Summer HERE.

Buy the book at any of these fine sellers:

Indiebound

Book Depository

Powell's

Amazon