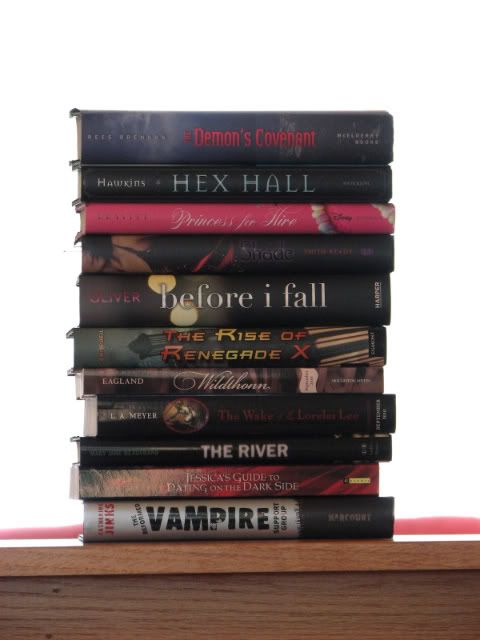 (The extreme backlighting above was created by the evening sun streaming through my window.)


THE DEMON'S COVENANT – Sarah Rees Brennan
HEX HALL – Rachel Hawkins
PRINCESS FOR HIRE – Lindsey Leavitt
SHADE – Jeri Smith-Ready
BEFORE I FALL – Lauren Oliver
THE RISE OF RENEGADE X – Chelsea Campbell
WILDTHORN – Jane Eagland
THE WAKE OF THE LORELEI LEE – L.A. Meyer
THE RIVER – Mary Jane Beaufrand
JESSICA'S GUIDE TO DATING ON HE DARK SIDE – Beth Fantaskey
THE REFORMED VAMPIRE SUPPORT GROUP – Catherine Jinks

So many riches!

Here's a pile of books I've read and loved recently … or plan to read and love imminently.

THE DEMON'S LEXICON, by Sarah Rees Brennan was one of my absolute favorite books last year, and lots of librarians agreed with me, because they chose it as one of the Top Ten Best Books for Young Adults. I've been soooooo excited to read the sequel. I just finished it a couple of days ago, and WOW. It was amaaaaazing. SRB's writing is by turns breathtaking, playful, heartbreaking, and soulful. If you like fantasy, you will love her books. If you're lukewarm on fantasy, I think I can safely say you will still love her books.

HEX HALL was a hotly anticipated title for me because a writer friend loved it, and I trust her judgment. She was right!!! So clever and funny … with plenty of suspense and mystery.

I've already read and adored my autographed copy of PRINCESS FOR HIRE … this copy is for the local middle school. Isn't the bright pink a nice contrast to all the dark spines?

I'm reading SHADE right now – highly entertaining and original.

Lots of buzz around BEFORE I FALL – can't wait to read it. Same with THE RISE OF RENEGADE X.

Mary Jane Beaufrand and I met at the Pacific Northwest Booksellers' convention. She read an excerpt from her book, THE RIVER, and I've been looking forward to it ever since.

The rest of the books in the pile are from my publisher. I was looking through the Fall catalog (which features my upcoming novel THE MERMAID'S MIRROR) a couple of weeks ago and I saw the new Jacky Faber adventure by L.A. Meyer. Book lust set in. Then I realized, "Hey. I could probably request some titles … and they would probably send them to me."

I COULD and THEY DID.

Edited to add:

I just watched this hilarious video by author Parnell Hall ... about book-signings that are, well, sparsely attended. Enjoy!