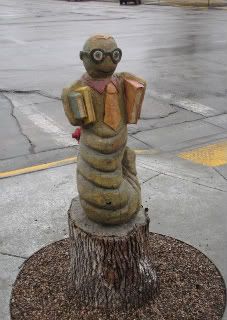 My post yesterday featured this cute little bookworm somewhere in the world where I visited last week.









The bookworm hangs out in front of the Rapid City Library in South Dakota – just 20 miles from these guys. We visited the Crazy Horse monument 17 miles away from Mount Rushmore, but I don't have any good photos of that site. You can read more about it here.

We went to see family in SD last week, and had a marvelous time. The weather was nice – cold at night, warm during the day – and Rapid City is a great town. I can't wait to go back. They have cool bronze sculptures of many US Presidents on their street corners. You can learn more about them here.





When I got home, the Public Library Association conference was just finishing up in Portland. I met five fabulous librarians for breakfast early Saturday morning. Listed from left to right are: Jo Caisse, Judy Nelson, me, Susan Fichtelberg, Bonnie Kunzel, and and Diana Tixier Herald. Judy and Susan are two of the eleven librarians who served on "my" Morris Award panel, so I was especially glad to hug them in person!

Librarians are so smart and funny – what could be better than talking about books with the people who are most passionate about them? I know I must've blathered a bunch, but they all seemed so … interested … in what I had to say. They were so much fun – I can't wait to meet more lovely librarians at the national ALA conference in June!

Well, spring break is officially over TODAY, and it's time to get back to work, both at the day job and on my current manuscript. It's finished, but it needs some serious help. Luckily, I've got detailed critiques from my crit partners – I love it that they know my previous work well enough to point out stuff like, "Your main character sounds more like Blake here." (Oops!)

Happy Monday, everyone!