San Francisco traffic: shudder.

I did arrive early and only a little harried. I saw my dear
literaticat first – she was busy getting the most critical part of the evening in order: the cookies and mini-cupcakes! Alas, I never did partake of their desserty goodness – once things got underway, I was too busy.

We had a little time before the event started, so I said hi to Sara Zarr, met Allen Zadoff and Barry Lyga … then met some of the other MG/YA authors in the crowd who had come out to support us: Sarah Quigley, Cheryl Renee Herbsman, C. Lee McKenzie, Heidi Kling, Courtney Sheinmel, and Daisy Whitney! Three Debs, two Tenners, and lovely Courtney, in a class by herself. (I've met Cheryl and Lee before, but it was so good to see them again.) Thanks so much for coming out, you guys!

I also got to meet some new agent-sisters: Ilene Wong and Whitney Miller. Stay tuned … I'll bet it's not long before we're hearing that their books have sold.

And of course the evening would have been tragically lacking without the amazing Martha Flynn in attendance! She needs to come visit me in Portland. I also met Debbie Duncan, aspiring novelist and busy reviewer.

I met lots of other people, including some young book bloggers … forgive me for not listing everyone. I'm supposed to check out of my hotel room in ten minutes (literally!) so I'm rushing.

Andrew Smith was the fifth YA author on our panel, but I didn't actually meet him until the event was over. His book is called IN THE PATH OF FALLING OBJECTS, and sounds sooo chilling. Can't wait to read it.

Barry spoke first, and read an excerpt from GOTH GIRL RISING (about boobs). Then Sara talked about the inspiration behind ONCE WAS LOST, and read an excerpt. Then Andrew got up to talk, and I said to Allen, "Let's do boy-girl-boy-girl. I'll go next."

When it was my turn, I talked a little bit about FLASH BURNOUT, read an excerpt, and talked briefly about next year's book – THE MERMAID'S MIRROR. On Twitter, Heidi had mentioned that she hoped I would read a teaser from the mermaid book … so I did! (The prologue, nice and short.)

Then it was Allen's turn, and he read an excerpt from his debut YA novel – FOOD, GIRLS, AND OTHER THINGS I CAN'T HAVE. Within minutes we were all laughing so hard we were crying. I can't wait to read the whole book! And selfishly … I'm really glad I didn't have to follow him. Can you imagine?

We answered some questions, signed some books, and then the Third Annual Fall Book Bash at Not Your Mother's Book Club was over! Sob.

I got to spend time chatting with Heidi about writing and parenthood and contemporary realistic fiction versus fantasy, and all kinds of deep topics. She's awesome – and she gave me an ARC of her upcoming YA: SEA. Squee!!

I got back to my hotel around midnight, but I don't think I fell asleep until around two. I was just so buzzed from the event. Thanks so much, Jenn, for making it happen. <3

I woke up this morning, poured some coffee down my throat, and went for a walk on the beach.

Even though Half Moon Bay is only 30 miles from the crowded metropolis of San Francisco, the beach was empty, except for one fisherman and two surfers in the distance. I love being on a deserted beach. It was more than an hour before any other people appeared.

(Again, camera-phone quality photos.)





The surf was high this morning, and loud.







It's one thing to surf in Hawaii, or some other tropical locale. But you've gotta have some fierce passion to surf in the cold waters of northern California.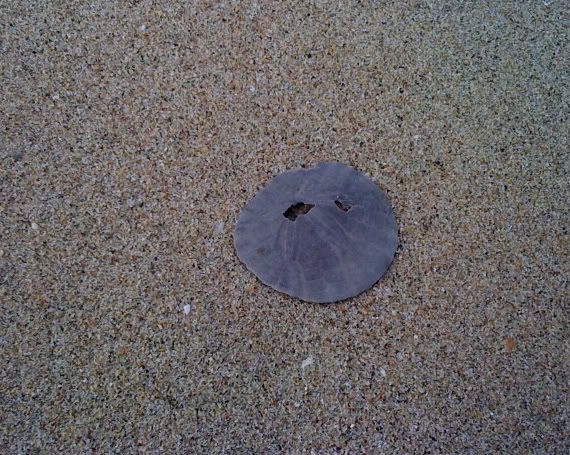 Finding a whole sand dollar always feels rare. I kept this one.





I admired this big blue and gray shell, then gave it back to the sea.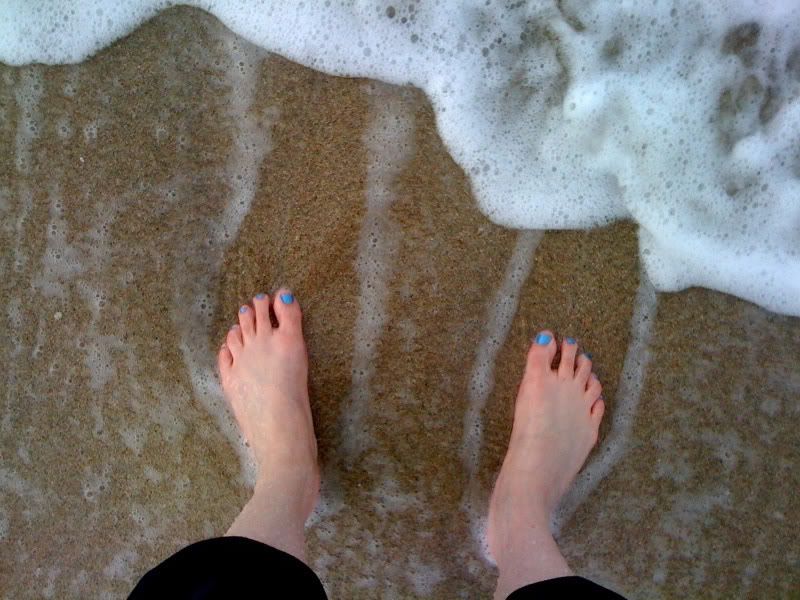 Some people like to enjoy the ocean from a sheltered, dry deck … and some of us like to feel the cold water and the sand.

Okay, I've got to run before they kick me out of here!

Later, friends!

P.S. I wore jeans last night. :-)