This is how I feel today:




And this way: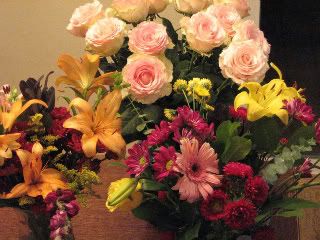 (Flowers from friends)

My book signing yesterday at Powell's was absolutely wonderful. SO MANY people showed up for me! They kept having to set up more chairs. (Don't be too impressed ... I think 95% of them already knew me.)

I gave my little speech and it went pretty well, although I got distracted when I was throwing chocolate at people, and skipped part of it. But no one noticed, so it was okay. My FAVORITE part was when our 16-year-old friend Nathan did the reading - I could NOT STOP SMILING the whole time he was reading. I got to hear Blake's voice in an actual teen boy's voice!! He did an awesome job.

My friend Suzanne Young wrote up such a perfect post about the day that I really don't think I can improve on it. Stop by her blog to read more - there are pictures! (Ours came out weird and grainy.)

I couldn't fall asleep last night because I was just lying there in the dark, smiling, remembering the day.

Thank you to everyone who showed up!

P.S. OH!!! Please go to Jama's blog and enjoy her photo-inspired post! Jama, I <3 you!