Kate Messner
, today on Authorial Intrusion.
I was lucky enough to read
THE BRILLIANT FALL OF GIANNA Z
in ARC form, and I fell in love with it. The main character's voice is PERFECT, and all of the secondary characters are rounded and interesting, heck … even the characters we meet only once or twice are terrific! A sense of humor is present throughout, even though there are serious moments. The tension builds so gently that you don't even realize you're almost holding your breath by the end of the book. I loved it and I highly recommend it!
Synopsis:
Gianna Zales has a lot on her plate this fall – a father who drives her to school in the family hearse, a mother who's turned into the junk food police, a little brother who thinks he's a member of the paparazzi, and a grandmother who leaves false teeth in the refrigerator. Worst of all, she's left her 7th grade leaf collection to do at the last minute. It's a monster project, and Gianna will miss cross-country sectionals if she doesn't meet the deadline. She'll need the help of her geeky friend, Zig, and some brilliant ideas of her own to pull it off.
Kate Messner grew up in Medina, New York and graduated from Syracuse University's S.I. Newhouse School of Communication with a degree in Broadcast Journalism. She worked as a television news producer and reporter in Syracuse, NY and then Burlington, VT, before going back to school to get a teaching degree. These days, Kate is a National Board Certified middle school English teacher. She has helped hundreds of kids work on leaf collection projects and likes sugar maples and catalpa leaves the best. Kate lives on Lake Champlain with her husband and kids and loves spending time in the woods.
Thai food or Chinese?
Definitely Thai! (From this tiny little place called Phaya Thai in Montreal...mmmmm...)
Advice for writers in 5 words or less.
Sit back down. Try again.
What are you reading right now?
SUMMER WORLD by Bernd Heinrich
Ocean or lake?
Lake Champlain - absolutely!
First car?
Tiny white pickup truck that I drove in high school. I once locked my baritone saxophone AND my keys inside the truck with the truck running. ("Hello...Dad?")
First job?
Waitress at Friendly's. And I was named friendliest employee of the month that summer. I take my ice cream very seriously.
Spring or fall?
Fall!
Last book you gave as a gift.
HOW DO YOU WOKKA WOKKA by Elizabeth Bluemle (GREAT baby gift!)
If you were a crayon, what color would you be?
Magenta.
Where would you like to travel that you haven't yet?
Costa Rica.
Chocolate chip cookies or snickerdoodles?
Chocolate chip. (Chocolate things trump non-chocolate things any day.)
Who do you wish you could meet, living or dead?
Actually, one of these wishes came true this summer when my daughter and I met Judy Blume at the American Library Association Conference. But I'd also like to meet Robert Frost and J.K. Rowling.
Thanks for indulging our curiosity, Kate!
P.S. I think the linden tree might be my favorite – it smells intoxicating in July, and looks gorgeous in the fall: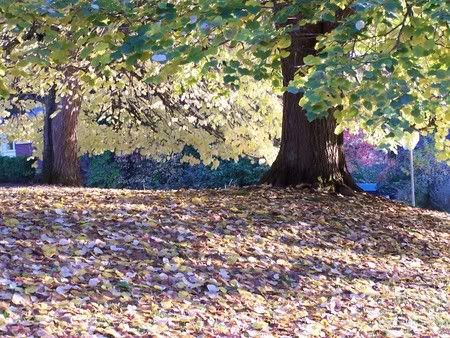 I'm delighted to introduce my fellow debut author,
Current Mood:

curious