Before we go any further, please allow me give a shout-out to my agent-mate
fabulousfrock! I've followed Jackie's journey to publication on LiveJournal, and I could not be happier that her book will finally come to stay on my shelf as a hardcover in December. I'm impatient, however, and I want to read her ARC now, so I'm spreading the MAGIC UNDER GLASS love:





Coming 12/22/09 from Bloomsbury...

Nimira is a music-hall girl used to dancing for pennies. So when wealthy sorcerer Hollin Parry hires her to sing accompaniment to a mysterious piano-playing automaton, Nimira believes it will be the start of a better life. In Parry's world, long-buried secrets are about to stir. Unsettling rumors begin to swirl about ghosts, a madwoman roaming the halls, and Parry's involvement in a group of corrupt sorcerers for whom the rules of the living and dead are meant to be broken for greater power. When Nimira discovers the spirit of a dashing fairy gentleman is trapped within the automaton, she is determined to break the curse. But even as the two fall into a love that seems hopeless, breaking the curse becomes a perilous race against time. Because it's not just the future of these star-crossed lovers that's at stake, but the fate of the entire magical world.

Want to win an ARC with original sketches from the author inside? See http://fabulousfrock.livejournal.com for details!


Where are you going?

My editorial letter for THE MERMAID'S MIRROR* arrived today, so I'm going to be offline, mostly**, until I've wrestled the many flailing limbs of that story into a book that beckons the reader ever deeper …


Where have you been?

-- I've been working on another contemporary realistic YA boy book. I'm in love with it, because the main character of this story meets Blake (the main character of FLASH BURNOUT), and the two become friends. So not only do I get the fun of writing in a new voice … but I also get the fun of hanging out with Blake again. Of course, this book is not under contract, so it may end up living in a drawer as my own personal entertainment … but you never know.

For now, however, I've closed that document so I can plunge back into the watery world of mermaids.

-- I've been reading:

SHIVER, by
m_stiefvater. Loved.
ASH, by Malinda Lo. (Started and knew immediately I was going to love it, but I had to pause, because the mail brought me the ARC of …)
STRUTS AND FRETS, by Jon Skovron (and I don't want to hold it up from the next recipient on the list of Debs who want to read it! Another great boy book, I can tell already.)


-- I've been enjoying the summer, full of melons and berries and peaches.

Here are a few August photos from the back yard: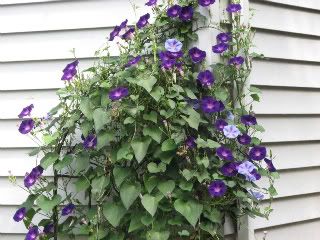 Morning glories.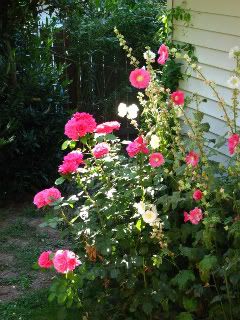 The flowerbed below my kitchen window, bursting with roses and hollyhocks. I blogged about those bright pink Electron roses when I first planted them, in the middle of a hot July. Back then they were little more than roots and a few sticks … so it makes me happy to see them flourishing.

So that's my story.

I'll see you in a few weeks, friends!



* Not sure this will be the final title.

**It's so, so hard to stay offline, isn't it? I probably won't be reading blogs, but I'll flit in to Twitter at least once a day.