It was awesome.
We writers and illustrators are too much in our heads. We desperately
need
to gather in groups sometimes to cheer and console, prop up a shaky buddy or talk a friend down off the ledge. If you are trying to pursue a creative life, I strongly recommend that you make connections with other people in your field … not just online, but in person.
I won't try to recap the whole weekend, but I will share some highlights and finish with a Top Ten list.
If you prefer not to read the whole entry, here are the salient points:
lindsey_leavitt
urged me to run around the halls in my underwear,
soniag
forced me to accompany her in obsessive pursuit of Sherman Alexie, and
lisa_schroeder
arrived in the nick of time to catch me before I fainted from euphoria.
I met so many terrific people, but it was a conference and not an intimate gathering … so I didn't get to talk in depth with as many people as I would have liked. For example, I crossed paths with
varianjohnson
several times, but I didn't get to discuss his upcoming book with him, or ask what else he's working on. I hear that Shelli Johannes is hilarious, but I only got to spend a few minutes with her. I met fellow agent sisters
lindajsingleton
and
jo_no_anne
, but we didn't have time to do more than snap photos and say hi. I met Jessica Lee Anderson just before I had to leave – I'm looking forward to reading her book, Border Crossing.
I arrived Thursday afternoon and went up to my room to shower off the stench of travel: diesel fuel, recycled air, and cabdriver cigarettes. Then I went down to the lobby to await my beloved high school friend
Steve.
He and I were joining a couple of other friends for dinner, and I just had time to meet some SCBWI-ers before I was whisked away to spend the next three hours laughing over tacos and margaritas. My friends are funny people. When I told Steve near the end of the evening, "You know, I always feel like the least funny one in this group," he quickly assured me, "You are." I pointed out that
some people
think my book is funny. He looked dubious.
Sherman Alexie gave the keynote speech Friday morning, and everything I've heard about him being a mesmerizing speaker – funny, heartbreaking, and inspiring – was confirmed as I swooned into his passionate words of wisdom.
In fact, all the keynote speeches I was able to attend – those given by Karen Cushman, Dan Yaccarino, Richard Peck, Holly Black, and Ingrid Law – were brilliant and empowering. I always wonder how one makes the transition from introvert to crowd-captivating speaker.
I had dinner Friday night with lots of Debs, including my long-time critique partner, whom I finally met for the first time –
sealy38
! I failed to take a photo of the two of us together. Gahh!
Also in attendance were
cindy_pon
,
cynthea
,
dreamerwrites
,
jgurtler
,
kderting
,
malinda_lo
,
millencake
, and
sydney_salter
. Dancing chicken whisperer
tamarak
and local peep
lisa_schroeder
joined us, as did Sydney's cute husband. The manager of
Toscanova
had wisely put us in a separate room, where we became increasingly boisterous as the night wore on. Once freed from their garrets, writers need to be LOUD.
Observe: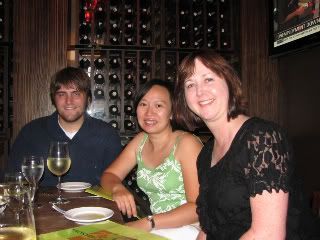 Chris Rylander, Malinda Lo, me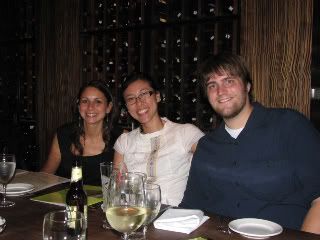 Cheryl Renee Herbsman, Cindy Pon, Chris Rylander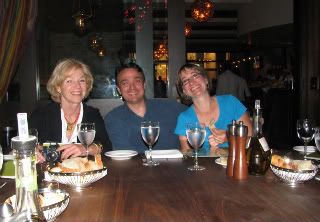 Lee McKenzie, Sydney Salter, and Sydney's husband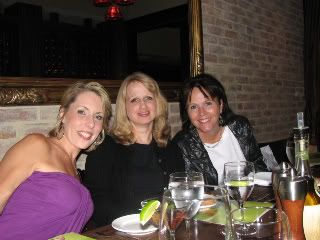 Kimberly Derting, Lisa Schroeder, and Janet MacLeod
Saturday,
soniag
and I attended a workshop about the author-editor "process" given by Sherman Alexie and his editor Jennifer Hunt. After his previous day's speech, I expected every chair in the huge room to be filled, but there were only about 50 of us. Jennifer encouraged us to move closer to the front; we gathered around to listen to their funny, affectionate banter.
During the wooing process of publishers trying to acquire his YA novel, Sherman said that Little, Brown was the first meeting he and his agent attended, and he pretty much decided then and there that he wanted to go with them. It was important to him that Jennifer was black. "And remain so," Jennifer put in dryly. Publishing is extremely pale, and he was happy that the "brown guy" author got the "brown chick" editor.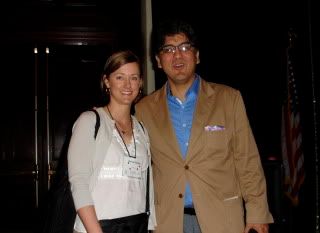 After the panel, Sonia
dragged me
and I approached Sherman to ask if we could take photos with him. You will notice in Sonia's picture, Sherman looks rather frightened.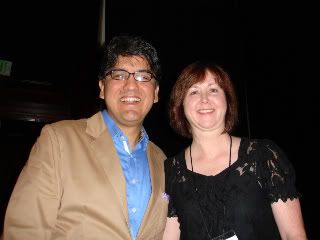 However, in his photo with me, he appears happy and relieved. (I thought about Photoshopping out my double chin, but I really need to make my peace with the chins. Besides, Sherman's and my chins look kind of alike, don't they?) (The happier I am, the more chins I roll out.)
Wow, this is long, isn't it?
Let's cut to the Top Ten list!
Oh, and I also got to have dinner Sunday night with one of my dearest friends from college - we ate on the patio at Toscanova (it was a great place) - and caught up on the years since we've last seen each other. She looks as gorgeous as the day I met her 20-cough years ago.
By the way, I've taken out a new mortgage to pay for the meals consumed during the weekend. I visited Japan about 14 years ago, when the exchange rate of dollar-to-yen was at its worst in 40 years. I vividly remember paying $18 for an iced tea. Food and drink in Beverly Hills is not far off that.
NOW the Top Ten:
1)
The baby in Lindsey's belly wants carbs, and you had better not get in the way of her Tower of Sticky Buns with Side of Maple Syrup.
2)
"Everything but YA is dying a slow, mangled death."
Sherman Alexie. (He meant adult genre literature … not children's books.)
3)
"Our books will change lives in a way adult books will not."
Sherman Alexie
4)
"Here's my advice to you this morning: don't listen to advice."
Karen Cushman. (She had just finished listing lots of conflicting advice about how to be a writer.)
5)
"As soon as you trust yourself, you will know how to write."
Karen Cushman, paraphrasing Goethe.
6)
Make phone calls fully dressed. Because if you're just lounging around partially dressed, and you call someone in the morning, and they say, "What room are you in?" and you say, "941," and they say, "Shut up! Open your door and walk out into the hall," then you'll be forced to explain, "I don't have any pants on." But
lindsey_leavitt
ignored the no-pants revelation and insisted, "Just open the door! Peek out." Then you'll have to jump into a pair of shorts before you can open the door and discover that she is right across the hall in 942.
7)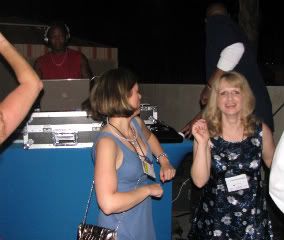 Once you turn up the music, quiet writers will BUST OUT. See that white sleeve behind Lisa's head? That's the DJ
running away
from Sonia's and Lisa's adoration.
8)
Richard Peck gave a speech that held us in thrall, causing us to laugh and cry in turn. He ended with a story about a school visit in which a boy offered him the best definition of epiphany he'd ever heard; after class, the teacher told Richard about the boy's horrific home life. I'm getting goosebumps even now as I share Richard's final words to us before he left the stage: "You see a boy trying to dig his way out … and you wonder if story could help. That's what we do. That's who we are."
9)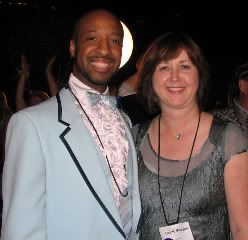 Varian Johnson looking dapper in his blue tux. He dropped by to chat with a few of us at the party, but we were talking about penises (as YA writers do), and he left abruptly. *shaking head* You can't take us anywhere.
10)
I learned at Alice Pope's online promotion seminar that I'm not supposed to hang back like a wallflower and expect people to hear good news about my book from … somewhere else?
So in the spirit of SHARING GOOD NEWS, while I was waiting in the airport Monday afternoon for my flight home, I checked email on my phone. There was one from my editor that said: "Yay, fantastic starred review from Booklist!"
I gasped, "Oh my God!" and my face split in two from the smile that burst over it. I almost turned to the lady next to me and screamed,
"I got a starred review in Booklist!"
But I'm working on self-restraint, so I didn't. I called my husband and told him, then explained how that was a really good thing.
Thank goodness Lisa Schroeder showed up at the gate a few minutes later (we were on the same flight home), and I leapt up and yelled, "LISA! I got a starred review in Booklist!!!" She squealed and hugged me because she knew what that meant, and it was way more gratifying than telling the lady next to me.
I confess I went to the SCBWI national conference mainly to meet writer friends I've known only online.
Once I was there, however, I was sucked into the whirlwind of excitement generated by nearly a thousand creative people all packed into one room.
And I remembered that I am a writer first … an author second.
It's important to sell my books, of course. I want to make my publisher happy they took a chance on this
author
. But it's more important that I continue to write what I love … what I want to read; this
writer
wants to keep learning and getting better.
I feel like I didn't do justice to all the wonderful info I absorbed this weekend - for more terrific posts about the conference, check out these links:
http://lisa-schroeder.livejournal.com/tag/scbwi+conference+2009
http://lindsey-leavitt.livejournal.com/108272.html
http://soniag.livejournal.com/tag/lascbwi
This past weekend, almost a thousand people who regularly choose to spend a great deal of time alone gathered in a huge conference room in Los Angeles and created COMMUNITY.
Current Mood:

tired