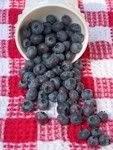 This is an image from the 4th of July, 2006. I have lots of ripe blueberries outside waiting to be free of their branches … but it's sooo hot here. I just want to sit in my air-conditioned house and drink iced tea.
Today's summer rerun comes from a
July 2007 entry,
after we returned from our trip to Great Britain.
It's entitled
The Passing Poetry of Place Names:
Through England -
Seething
Spixworth
Blickling
Beccles
Creake South
Crimplesham
Pinchbeck
Bicker
Icklingham
Ugthorpe
Foggathorpe
Grinkle
Shiney Row
Spennymoor
Amble
Flodden
And into Scotland -
Coldstream
Caddonfoot
Peebles
Penicuik
Firth of Forth
Sheriffmuir
Bonnybridge
Beecraigs
Little Glenshee
Killiecrankie
Dalnaspidal
Dalwhinnie
Strathmashie
Loch Lochy
Dingwall
Dunmaglass
Current Mood:

hot