Good morning! Happy June 1st.

I don't know about you guys, but I had a lot of fun with Blogging Alternatives in May.

However, in a cruel twist of irony, I seem to have blogged even more than usual in my efforts to encourage people to do things other than blogging.

Bahahaha!

So I will probably be pretty scarce around LJ the next couple of months, except for posting Authorial Intrusion interviews. I need to settle back into a more structured writing schedule, and I will be holing up in the Revision Cave once I get notes from my editor for book 2.

In other words, BIC instead of BAM.

I've listed below the BAM participants, to the best of my knowledge. If you don't see your name, and you did participate, please let me know within the next few days (and tell me which category – ART, OUTINGS, or PEOPLE). It's quite possible you were BAMming and posting proof all month long, and I just missed it, due to my spotty blog-reading.
annewriter, I know you took went offline during May – did you BAM?

On June 5, I will fire up the random number generator, and choose the winners. (Chocolates! Fun stuff! Books! Maybe my ARC!)

ART
1.
sookie06 (garden art, bracelet)
2.
susanwrites (garden art)
3.
soniag (fancy collage)
4.
sarazarr (taking up music again)
5.
meganfrazer (cake-baking)
6.
sruble (aside from her regular art, she's taking a comics class)
7.
3rdgradeteacher (who never blogs, but provided photographic proof of more BAMming in one month than I could have managed in six months … and I don't have a baby and a toddler)
8.
kellyrfineman

OUTINGS
1. Kathleen (of All the World's A Stage) (Northwest FolkFest)
2.
newport2newport (many outings!)
3.
kellyrfineman (ditto)
4.
anywherebeyond (two OMG THREE outings!)
5.
fabulousfrock (wide-ranging travels)
6.
soniag (England)
7. Jolie (of Cuppa Jolie) (various Real Life)
8.
meganfrazer (hiking, trapeze-ing)
9.
3rdgradeteacher
10. Laini Taylor (went all over the place in May)
11.
jbknowles (Medieval Fair)
12.
sookie06

PEOPLE
1.
3rdgradeteacher
2.
meganfrazer
3.
kellyrfineman
4.
kimkasch
5.
juliakarr
6.
marybethkelsey
7.
annewriter

I went on one final May outing yesterday morning: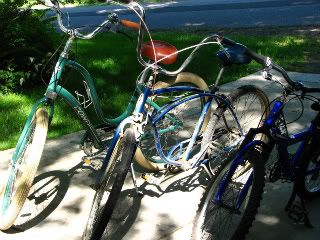 My husband, son and I took a spin around the neighborhood.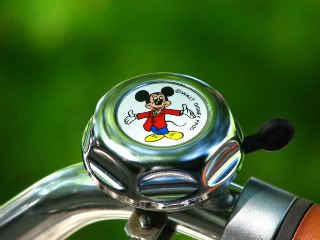 I rang my bell at recalcitrant cats.

I know what you're thinking: "Phhbt. It's a photo of some bikes … how do we know you didn't just park them next to each other and take a picture, and go back in the house to watch Supernatural DVDs?" To those of you, I say, Listen. Shh. Do you hear that? It's the sound of my thighs screaming.

Even if you didn't BAM, I hope you had fun in May.

Let's meet back here next year for more blogging alternatives. Heck, if BEDA becomes an annual event, you will need to relax with BAM.