Hi!

Happy Tuesday! I'm back from the dentist after much numbing and drilling and molding. Now the rest of my week off work can be pain-free, I hope.

How's BAM going for everyone? (Er, anyone? Bueller?)

I know
newport2newport has been on many outings, wearing her Nancy Drew hat, and

kellyrfineman has been gallivanting, and

sookie06 and
susanwrites made garden art, and

anywherebeyond actually left her house TWICE in May (no, it's true! I have photographic proof! But I know from personal experience that having body parts surgically removed is no fun, and I doubt Saundra would stop to sterilize instruments and stuff, she would just rip out my viscera, so I'm not going to post the photo) and

soniag made a gorgeous character collage AND is on a big outing in ENGLAND right now! and
Jolie (of http://cuppajolie.blogspot.com/) had Real Life plans for May, and
lots of writer friends went to the Western Washington SCBWI in May (so jellus!!) and … and …

Who else?

I know I'm missing someone. Let me know if you've been BAM-ing, because you! may! win! prizes! including Moonstruck chocolates, a cute keychain, a Winter Court or Summer Court wristband (courtesy of Melissa Marr), and books! (Some of the books up for grabs are: GRACELING by Kristin Cashore, CHAINS by Laurie Halse Anderson, RADIANT DARKNESS by fellow Portlander Emily Whitman, FRAGILE ETERNITY by Melissa Marr, FINGERSMITH by Sarah Waters, and however many more I need to jettison to make room for more books.)

Let's talk about ART, since so many writers seem intimidated by the idea of making visual art.

I used to feel leery (what a funny juxtaposition of e's and l's) of venturing away from the safety zone of words and into visual art, but then I had en epiphany:

You can play with it.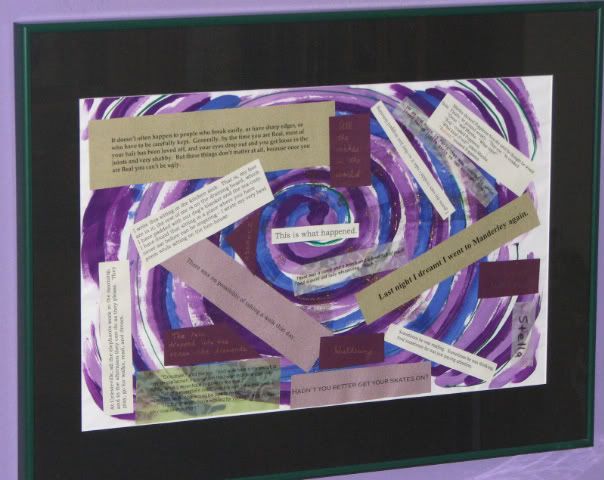 You can see that I didn't wander too far away from words when I made this collage. I made it using nothing more than a big piece of paper from a child's oversized sketch pad and some kids' paints. Then I typed up favorite words and phrases from books, printed them on different papers, and pasted them down.

I was so pleased with the end result I even framed it. Every time I look at it, it makes me happy.

Which is kind of the point, right?

The funjoyhappy of making art.

I can see that my efforts are primitive, but, well, that's my level of ability … so I must embrace it.

For an example of a more sophisticated collage, check out the one made by
soniag.

Several years ago, a character in one of my books carried around a homemade cigar box purse. I decided to make one, which required locating a cigar box, and buying the hardware for a handle. I got the cigar box at a local smoke shop, and ordered the hardware off eBay. Oh, and I bought lots of old books to cut up. (I know … I feel you wincing.)

Here's the end result (it was a hit at the SCBWI conference I attended):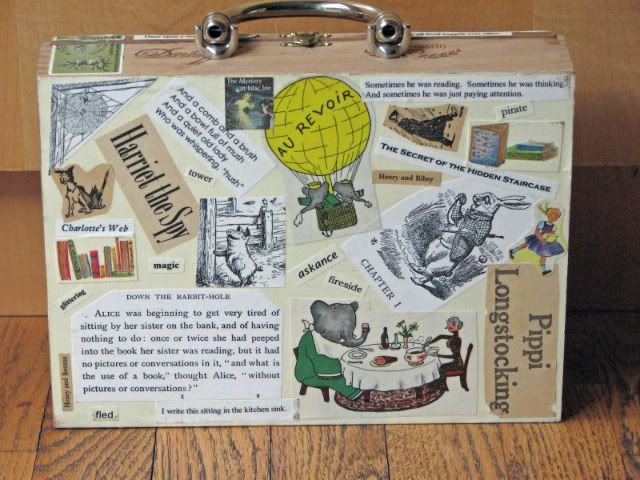 (Turns out cigar box purses are cute, but not very practical. They don't hold much.)

I've made my own note cards, too. You can buy blank cards at a crafts store or art supply store. I have a co-worker who makes amazing, intricately crafted cards. Mine are (of course) very basic. I decorate them with rubber stamps or homemade shrinky dink charms. The shrinkable plastic is called PolyShrink, and you can buy it here. You cut out a big circle or heart or star or some other shape, write or draw on it using heat-safe ink or paint, bake it, watch it shrink up in the oven, then glue it on the card. It's totally fun to do with kids, too. (Sorry I don't have any examples to show you.)

When I first got the idea for BAM, one of the ART things I wanted to do was make steppingstones – I hadn't made any for years. I went looking for my mosaic supplies, and came across these three frames I made a few years ago, but never got around to grouting: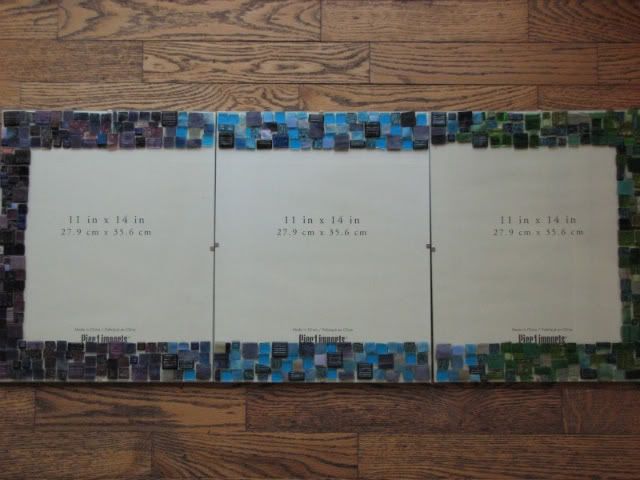 Must grout! My idea was to get a triptych painting for the frames, so that one image flowed into the next. I can't wait to see how it all turns out.

I'm not going to attempt to do a How-To post on steppingstones. I'll add this link for those who are interested. But here's what my process looks like:




Get a piece of cardboard to lay out your design on. If you use stained glass tiles, and you want to cut large tiles into smaller pieces, for the love of all that is safe, here's my quick tip for lazy people: get a plastic gallon bag and cut the tile (using tile nippers) inside the bag. Not only does it protect your eyes … it keeps the tiny glass slivers contained.

My husband is the kind of guy who tends to have bags of cement lying around the garage, but I like to use the pre-measured stuff, because it's easier. Keep your head turned away when you're pouring out the cement sand! You don't want to breathe in any particles.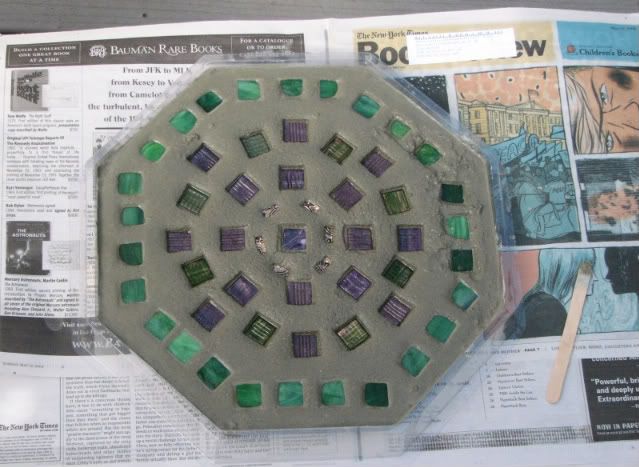 This is what it looks like when it's wet. (As you can see, I didn't end up making the yin-yang. I didn't have enough lavender tiles, and I couldn't find the round form!)

Don't forget to agitate the form after you pour the cement into it – it causes the slurry to rise to the top. (Love the word slurry.) I put my form on a TV tray, so I can move it around. You can't exactly shake a picnic table.


I'm not posting all these photos of my projects because they're OMG awesome! - I'm sharing my beginner-level efforts to show you that even the most artistically-challenged stick-figure-wrecker can make stuff.

(Most of these projects require a trip to a crafts store; sometimes Target has the same stuff. I buy some stuff – like mosaic glass tiles – on eBay.)

Some other ideas for coaxing the shy visual artist in you out into the world:

Buy some fabric paints and a solid-color t-shirt or hat, and let loose your inner designer.

Buy beads and charms and make your own bracelet.

Go to a museum and sketch or paint a piece of art there (like the students in VIDALIA IN PARIS).

Wow, it's 1:45 already! I haven't had lunch yet, and this entry is LONG ENOUGH.

Have FUN! Make ART!