1

I went to the second annual kidlitosphere blogging conference this weekend, which was conveniently located in Portland. Yay for local fun!
Conferences always involve a million details and many hours of donated time. In this case, our conference organizing angels were Laini Taylor and Jone Rush MacCulloch. Thank you sooo much, Laini and Jone – it was terrific, and I hope you rested today!

I met authors, librarians, and bloggers. And I got some free books! What is better than free books? Nothing!

In the spirit of making room for more books on my groaning bookshelves, I've decided to do a Halloween book giveaway! (*Details are after the cut.)


2

I learned that I'm a lazy blogger. ☺

I post sporadically, my topics are random and self-indulgent, and I don't do the networking thing very well. (This is my own judgment – no one at the conference accused me of inferior blogging.)

But I do love it. So I guess I'll keep doing it. Exciting!

Luckily, there are plenty of interesting, smart, funny bloggers out there who are passionate about kids' books and literacy, and who post regularly with excellent topics. I got to meet and hang out with a few of them this weekend. Check out their blogs:


http://interactivereader.blogspot.com/

http://www.chasingray.com/

http://www.motherreader.com/

http://www.readergirlz.com/issue.html



3

Two Lisas, two Saras, and an April walk into a bar …

Okay, it wasn't a bar.

It was a restaurant. I had lunch with
lisa_schroeder,
sarazarr,
sararyan, and
aprilhenry yesterday during our break. It was so fun to spend time with them, especially out-of-towner Sara Zarr. We are going to start a group blog about writing and working out, right, Sara Ryan? Hee! Probably not. But it's a fun idea. After all, writers spend a lot of time (A LOT OF TIME) in chairs. I hope we all have some form of exercise to counteract the sedentary time.


4

Speaking of workouts, I earned my blue belt in taekwondo Friday. Exciting!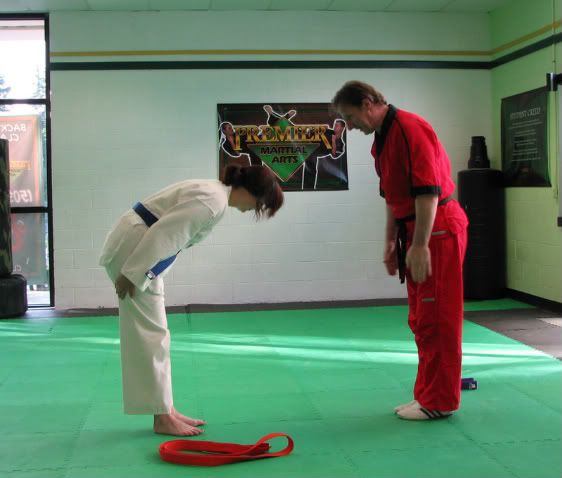 5

I'm so excited this book came in at the library – I picked it up today:






I love the Jacky Faber series, and I can't wait to read this latest installment! Jacky is the kind of character I would love to meet. She would probably make me crazy with her impetuous nature, but her big heart is the driving force behind her schemes.


6

It's Banned Books Week.

After I finish Jacky's book, I may re-read a Harry Potter.


7




OMG, is that a leg???



*
So here's the book giveaway plan!

Add a comment telling me your favorite Halloween costume when you were a kid.

Or … don't. Just tell me you want to participate.

On October 5, I will pick a name at random out of an orange plastic jack-o-lantern, and the winner will receive the following VAMPIRE BOOKS:





The first two are gently read books, and the third one will be new, because Dracula is one of my all-time favorite books, and I love to share the classic Drac with people.